In the Garden
After carving the perfect Jack-o-Lantern, save your pumpkin seeds to plant next year.
Check out 8 water-conserving tips to keep your garden and budget happy this summer.
If you're growing asparagus in your garden, you'll have to wait three years for your first crop. But once planted, you can expect 20 or 30 years of asparagus production.
Learn quick tips from P. Allen Smith for harvesting summer vegetables like tomatoes, peppers and squash.
Read our tips for planting herbs, and share your herb gardening experience.
Learn what vegetables can be planted early in the season.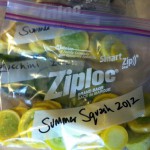 Learn how to blanch and freeze squash and zucchini in six easy steps.
Reasons to eat fresh fruit and vegetables from your garden or local farm include phytochemicals, increased energy and reduced weight gain.
Plant tags show a darkened circle or half circle to represent shade, but what's the difference between light shade, partial shade, full shade and deep shade?
If you haven't heard, one of the biggest items in gardening news lately is the unveiling of the new U.S. Department of Agriculture (USDA) Plant Hardiness Zone Map.
Our gardening expert identifies plants with shallow, medium and deep roots to help with interplanting flowers, fruits and vegetables in your garden.
Interplanting flowers, herbs, vegetables and fruits creates some benefits that enhance the overall success of my garden. Here are reasons to interplant your garden.