Top Crops
Do you know the difference between these three types of small tomatoes – cherry, plum and grape?
Harvested between July and Labor Day, the watermelon is the most consumed melon in the United States. Here are some fun facts about this juicy fruit.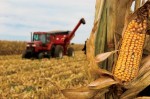 Corn covers more American farmland than any other crop, yet you'll need to find a backyard garden for some corn on the cob.
Learn fun facts and farmer statistics about corn, such as the size of a bushel of corn.
Follow the corn crop through the year from planting in spring to harvesting in fall and its uses beyond.
It's sweet, sticky and delicious on warm pancakes or waffles, but there's a lot more to maple syrup than meets the eye – or taste buds.
You may not think of a popular brand such as Red Gold being local, but Red Gold tomatoes are grown by Midwestern farmers, and the company remains family-owned.
Wheat has long been one of the most important crops in the world, with millions of acres devoted to wheat production.
Planted in fall, winter wheat is ready to be harvested in late spring. Read on for more fun facts about this crop.
Learn how to grow giant pumpkins from the master.
Nothing says summer like a bright red juicy tomato. Several states battle it out over this juicy red fruit, each claiming they grow the tastiest tomatoes.
Dark, dank and moldy? Sounds perfect for mushroom farming.