These cakelike cinnamon-pumpkin bars go from tasty to tantalizing when smothered in cream cheese frosting.
Difficulty Rating:
Easy
Nutritional Highlights: Pumpkin is one of the richest sources of Vitamin A and antioxidants beneficial for improved joint and eye health.
Recipe Created By:
Charlyn Fargo
Recipe From:
Illinois Farm Bureau Partners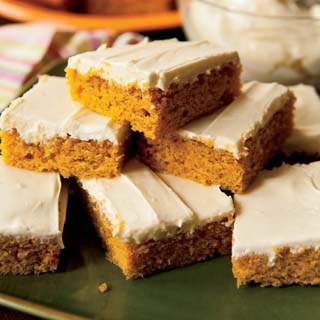 Total Comments: 8
Post a Comment
Ingredients
1 cup oil
1 cup sugar
4 eggs
2 cups pumpkin
2 teaspoons cinnamon
1 teaspoon baking soda
2 teaspoons baking powder
2 cups flour
Cream Cheese Frosting:
8 ounces cream cheese
2 cups powdered sugar
2 teaspoons milk
1 teaspoon vanilla
6 tablespoons butter
Instructions
For bars, mix the oil, sugar, eggs, pumpkin, cinnamon, baking soda, baking powder and flour together.
Grease and flour a jelly roll pan.
Bake at 350 degrees for 20 to 25 minutes. Cool.
For frosting, combine ingredients and mix well. Spread over cooled bars.
Recipe From: Farm Flavor - www.farmflavor.com
http://www.farmflavor.com/pumpkin-cream-cheese-bars/