Article By:
Gary DiGiuseppe
Peanuts are big business in Mississippi, and over the past year, production has surged to a 70-year high.
"We actually have reported through the FSA (the U.S. Department of Agriculture's Farm Service Agency) office this year over 41,000 acres," says Malcolm Broome, executive director of the Mississippi Peanut Growers Association (MPGA).
That's a nearly threefold increase over 2011.
Broome says the MPGA was formed in 2006 mostly by mostly growers in the southeast corner of the state who had been growing peanuts since before the 2002 federal farm bill ended the quota system limiting each farmer's acreage. The organization established a $2.50 per ton promotion and research check off through the State Legislature, which set up a Peanut Promotion Board. This six member board is appointed by the Governor with rotating terms.
"We've been expanding quite a bit," says Broome, "doing a lot of educational activities with the Diabetes Foundation, School Nutrition Association and Mississippi Dietetic Association. We have participated in a number of humanitarian activities with the tornado activity in Mississippi, the Haiti earthquake and several individual batches of peanuts given to food banks."
Hope For Continued Growth
The growth in 2012 production was almost entirely in the Mississippi Delta region, which Broome says produced more peanuts than the rest of the state. In 2011, Mississippi welcomed a new purchaser, Oklahoma-based Clint Williams Peanut Co., which built buying stations in Clarksdale and Greenwood.
Broome says until 2009, northeast Mississippi producers had to go all the way to a buying station in Alabama but the Birdsong Corp. established a buying point that year at Aberdeen. Golden Peanut Co. has also established a buying point in Tchula.
Don Respess, Mississippi State University Cooperative Extension Service director for Coahoma County, says the $750 per ton price induced Coahoma growers to raise several thousand acres in 2012, 20 years after disease forced them out of the business.
"We traditionally grew 6,000-7,000 acres of peanuts in Coahoma County, and had a place in Jonestown where we dried and stored them," he says.
Respess is hoping farmers will keep growing peanuts there despite declining prices.
Most of the growers in Mississippi produce for commercial processors, but Monticello's Lowe Peanut Farm sells directly to the consumer and retailer. Their consultant, Trey Bullock, says the Lowe family added peanuts to their rotation about 12 years ago because the corn and cotton they were growing weren't profitable.
"We sat down one day and asked them the question, 'What can we do to make some money?' and I just threw out, 'Green peanuts,'" Bullock says, which are the type of peanut suitable for boiling.
The Lowes grow a long-seeded Virginia cultivar that they sell in 32-pound sacks from their shop and to local stores.
"It's been one of those things that they just kind of start selling themselves," says Bullock.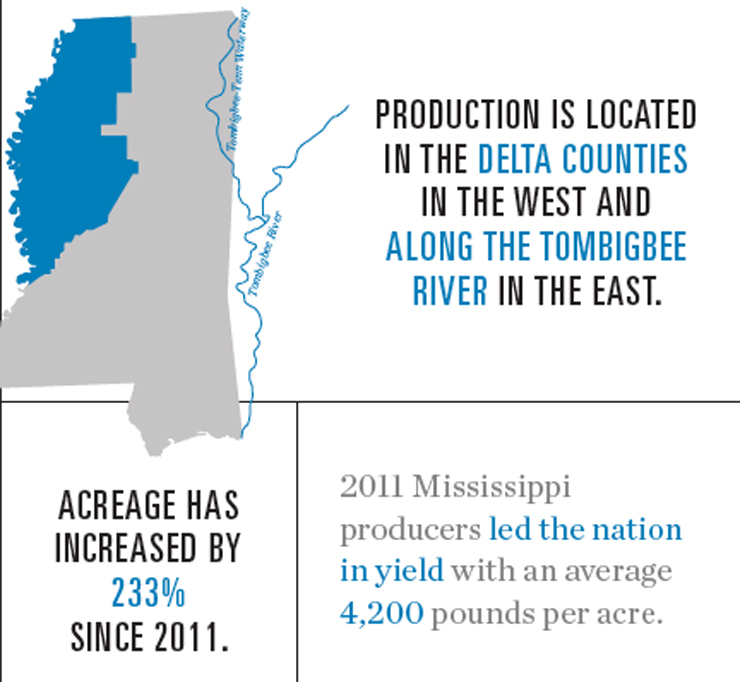 Maintaining a Healthy Crop
They rotate peanuts with other crops and only grow peanuts on the same ground one out of four years. Acreage has been a little lower in recent years, but not due to lack of demand; it's because they're growing more corn and soybeans, which reached record prices in 2012. Peanuts and soybeans cannot be rotated on the same ground because they are subject to the same diseases.
Among those diseases are early and late leaf spot, southern blight, limb rot and pod rot. If it's hot and dry, the organism that produces aflatoxin is also a threat.
"Peanuts are a leguminous crop, so they have a fair amount of nutrition inside the plant, which makes them a favorable target for many diseases," says Dr. Alan Henn, Mississippi State University professor of plant pathology. However, Mississippi growers have not faced as many challenges as have farmers in more established peanut areas.
Many Mississippi farmers grow Georgia-06G, a variety with some resistance to leaf spot. The disease defoliates plants, but in Mississippi it has appeared too late in the season to reduce yields.
The other pathogens can be controlled by fungicides. Henn notes crop protection chemicals can be expensive.
"Once a disease gets going, it can be somewhat difficult to stop inside the peanut. It requires a lot of care and management," he says.
In areas where peanuts have been established for a number of years, there's often a standard 7-10 day spray schedule throughout the season until harvest.
The equipment outlay is high, too. Broome says it's a $700,000 investment for an individual farmer. Most of the implements can only be used for peanuts, so farmers will need to continue to grow the crop to recoup their investments. But Broome is hopeful that Mississippi production will keep growing.
"We've got enough land that's suitable for peanuts that we could easily handle 100,000 acres or so each year on a rotation program. At some point in the future, there's been talk that a couple of these companies would like to move to a cleaning and shelling plant, but I think they'll want to see four to five years of growth in Mississippi before they'd commit to that."
Article From: Farm Flavor - www.farmflavor.com
http://www.farmflavor.com/us-ag/mississippi/top-crops-mississippi/peanuts-aplenty-in-mississippi/