A school field trip was once  the only connection many people had to a farm. But these days, farmers markets, roadside stands and farm-to-fork restaurants dot the Alabama landscape, bringing more public awareness to food – and a realization that it didn't just come from a factory.
The more people have this epiphany, the more interested they become in visiting farms, says Tom Chesnutt, tourism specialist with the Economic and Community Development Institute through Alabama's Cooperative Extension System and Auburn University.
The combination of people taking vacations closer to home and the spawn of the local food movement has given a boost to Alabama agritourism.
Attracting people from Nashville and Atlanta to Alabama's agritourism sites is key to building the industry, says Chestnutt, who hopes new road signs will help. Recent legislation requires the Alabama Department of Transportation to install signs for certain agritourism destinations.
One of the first agritourism businesses in the state started about 15 years ago. Tate Farms in Meridianville, which grows cotton and other row crops, was in the middle of an intensive spray effort conducted by the Boll Weevil Eradication Program. Owner Steve Tate and his family decided to venture into seasonal agritourism – pumpkins – with surprising success.
"We've been growing cotton out here for 100 years, but in Huntsville we're known as the pumpkin people," he says.
Farmers considering agritourism first must decide if it would be a good fit for their personality. Chesnutt authored a 20-page booklet about what goes in to the business, such as being around people and dealing with customer service.
Tate's goal is to recreate some of the rural good times he remembers as a kid – but in a safe environment.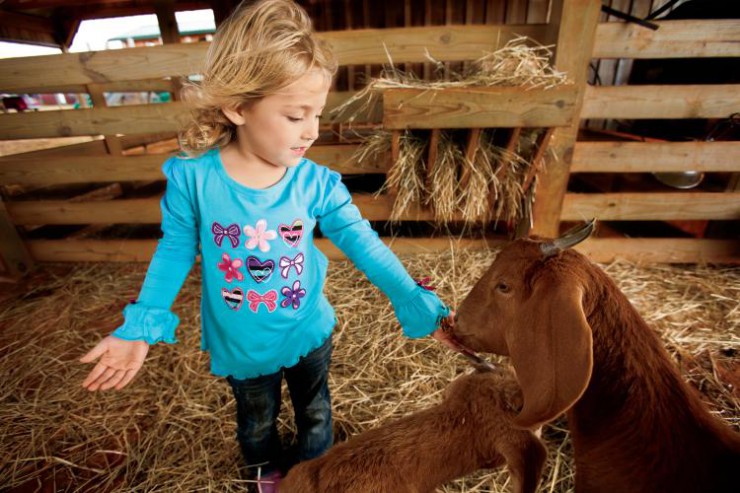 To keep agritourism growing, the enterprise has to be something people bring their families to year after year. Having someone on the inside who understands marketing and public relations is a huge factor, says Tate, as is having someone who can be a visionary.
Aside from the five to six weeks of pumpkin tourism, they also rent out their barn and area grounds for weddings and large outdoor parties.
The diversification at Tate Farms has created a more stable income. They can't buy crop insurance for the pumpkin segment of the farm because it's considered a hospitality business, but it's enough money to be worth the effort, Tate says. The fall events associated with the pumpkin business now generate 15 percent of the farm's gross income.
In 2011, Tate Farms maintained 3,100 acres of cotton, 900 of corn, 700 of soybeans and 700 of wheat. Then there are the 80 varieties of pumpkins, gourds and other squashes.
"There's more income per acre on the 57 acres of pumpkins than any of the other crops that we grow," Tate says. "But it is a lot of work. You earn every cent, and it doesn't happen overnight."
More Than U-Pick Farms
Alabamians can enjoy more than 40 different types of agritourism experiences across the state. A few to consider:
Farmers markets and farm stands
Garden center or crop tours
Agricultural museums
Historical exhibits
Winery tours
Exotic animal farms or petting zoos
Birdwatching or nature walks
Trail rides
Guest ranches
Hay rides
Barn dances
Festivals and fairs
Hunting and fishing