From potato chips to jelly, food product sales boost Alabama's economy to the tune of $2 billion dollars. And with an additional economic impact, the food service industries employ one out of every four Alabamians.
With profits and jobs at stake, the Alabama Food Manufacturers and Producers Inc. was created to answer the need to promote Alabama-made products.
A 501(c)(6) corporation, the organization has one mission: to identify and increase the awareness and sale of Alabama food products and to raise funds for state charities. The association collaborates with the Alabama Department of Agriculture and Industries (ADAI) and the Alabama Grocers Association.
The Buy Alabama's Best campaign raises money for philanthropic pursuits, including the Children's Hospital of Alabama. To date, the association has raised over $250,000 to help find a cure for childhood cancer.
The program also helps connect consumers with Alabama products, by sharing information about homegrown products and services to the public.
"Awareness brings consumers," says John D. Fox Jr., regional vice president of Moore's Marinade and Wing Sauces and a member of Buy Alabama's Best. "Without consumers, we have no business. Without business, we have no jobs."
The association is made up of companies that are headquartered in Alabama or produce or manufactures products in the state. Association members have various outlets to promote their product through the Buy Alabama's Best campaign, which has been around for six years and now includes more than 40 companies of varying sizes.
"For the smaller companies especially, the campaign is beneficial in getting their names in front of consumers," says Ellie Taylor, executive director of Buy Alabama's Best.
Randy Daniel, vice president of coffee and tea with Red Diamond Inc., recognizes the campaign's ability to counteract a small distribution. Many companies represented in the association don't have statewide distribution, and the campaign helps to bring awareness of those products to new markets.
But the dollars generated by in-state food production and manufacturing go beyond food items.
"The groceries have to be packaged, like the cardboard boxes for our tea. They are also made in Alabama," Daniel says. "Then there's shipping. Products are running up and down Alabama's highways in trucks that buy Alabama fuel, so the benefits really splinter out."
The association targets specific months – March and September – to facilitate special product promotions with merchants. Press conferences kick off the month's events and serve as opportunities to involve retailers, the legislative community and the media.
Here are a few Alabama products that are part of the Buy Alabama's Best campaign.

Blue Bell Creameries
Although headquartered in Texas, the company has a production facility in Sylacaug, Alabama.

Golden Flake Snack Foods
The company, named for its principal product, potato chips, is located in Birmingham.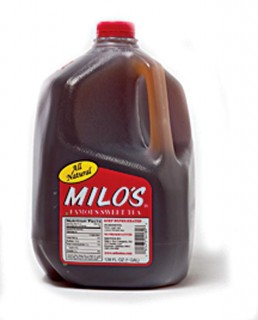 Milo's Famous Tea
A family-owned business, Milo's is located in Bessemer, Alabama, and sold in several states.

Sister Schubert's
Inspired by a family recipe, this company is based in Luverne, Alabama.

George's Old Time Barbecue Products
George's started as a BBQ restaurant in Brewton, Alabama, but has grown to include a line of products.

Wickles Pickles
A secret 70-year old family recipe differentiates these pickles, made in Dadeville, Alabama, from all others.

Alaga Syrup
This sweet syrup recipe was born when a Georgia boy married an Alabama girl. It's now made in Montgomery.