The days of sitting in rows of desks listening to a teacher drone on are past. Education today is progressively moving forward to become more hands-on and project- oriented. While some may believe this new path is a bit too radical, agricultural education programs have been on this track for more than half a century.
Agricultural education works to prepare students for successful careers and a lifetime of informed choices in the global agriculture, food, fiber and natural resources system, according to the Agricultural Education mission. This is achieved by blending classroom education with leadership opportunities and hands-on learning projects. While agricultural education is most often associated with the National FFA Organization, Arkansas hosts many agricultural education opportunities.
Two strong programs for Arkansas youth are the Arkansas 4-H program and the Arkansas FFA Association. The University of Arkansas, Division of Agriculture, Cooperative Extension Services maintains the state's 4-H program. This program allows youth to learn leadership, citizenship and everyday skills as well as receiving mentoring from community members.
"Youth need to see a visual of what life will be like later in life. It makes it more realistic to have a person who just experienced what they are going through to be there for guidance," Jenne Richardson, a VISTA associate with the Arkansas 4-H after-school program, writes in the annual Arkansas 4-H newsletter. "I intend to continue working with the youth to help them build positive relationships, and life skills. It is an honor to be able to give back to my community."
Another educational option for youth is the Arkansas FFA Association. This organization works to promote premiere leadership, personal growth and career success in its members. Students can take on leadership roles through serving on an officer team and advocating for agriculture to community members, younger students and their peers. Arkansas FFA members can also develop the ability to think critically, communicate clearly and perform effectively in the competitive job market through experiences in career development events. The skills students gain through this organization better prepare them for future careers in agriculture.
Beyond elementary, middle school and high school, agricultural education opportunities are available at most post-secondary schools throughout the state. Not only do colleges and universities throughout Arkansas prepare future agricultural educators for their goals, these programs also show great support for youth-oriented agricultural education programs.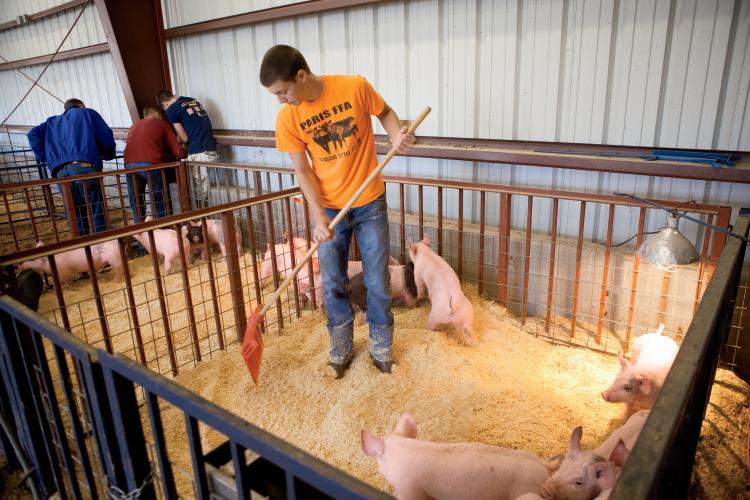 "One of the first things our students are exposed to here at Arkansas State University is our annual leadership conference," says Dr. Donald Kennedy, interim dean of the College of Agriculture and Technology at Arkansas State University. "We want our students to become better leaders and better communicators. If you ask future employers what they might want, the first two or three things they say is 'we want people who can communicate.' We want our students to know the technical material that will be required of them in the job field, but we also want them to have those 'soft skills,' such as leadership and communication, that are transferrable to any job they may take."
Agricultural education programs, similar to the ones at Arkansas State University, are working dutifully to prepare youth for future careers in agriculture. The combination of Arkansas 4-H, the Arkansas FFA Association and agricultural education programs through higher education is providing Arkansas youth a bright future and setting students up with a solid foundation in agriculture.