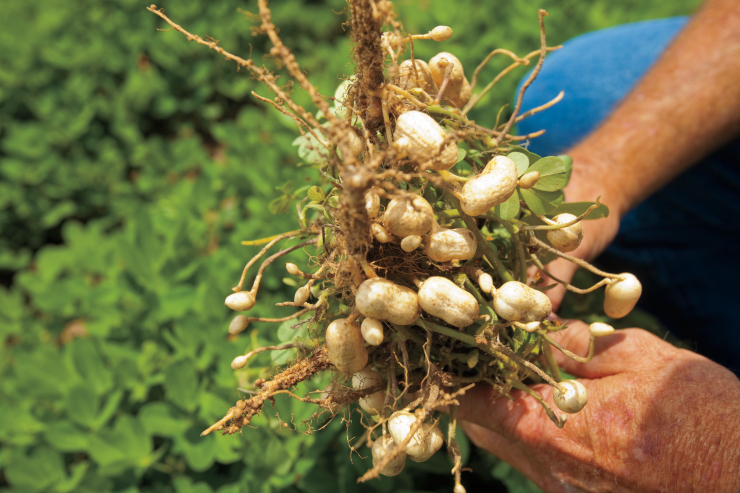 Arkansas's peanut industry is beginning to prosper after several decades of low interest among state farmers.
The state saw peanut plantings increase from about 600 acres in 2009 to 18,000 acres in 2012, says Travis Faske, assistant professor and extension plant pathologist with the University of Arkansas System Division of Agriculture.
Peanut processing companies began eyeing Arkansas after drought caused peanut acreage to drop in traditional growing areas including Texas, Faske says.
"I think a lot of people had been looking at Arkansas for a number of years," Faske says. "But there wasn't a push until some of the acreage started dropping in Texas because of water issues. Arkansas has water, and the land is suitable for peanut growth."
The Clint Williams Co., a peanut-shelling group based in Madill, Okla., began approaching farmers and testing the potential of peanut production in Arkansas in 2010, says Kyle Baltz, who owns Baltz Feed Co. with his brother in Pocahontas, Ark.
Baltz entered into an agreement with the Clint Williams Co. in early 2012 to open a peanut buying point in Pocahontas that operates under the name Ag Headquarters. The site was completed in September 2012 and can process about 8,000 acres – or 17,000 tons – of peanuts annually, Baltz says.
Ag Headquarters delivers drying trailers to farmers, who then send their crops back to the facility. There, the peanuts are dried, graded and stored or shipped directly back to the Clint Williams Co., says Baltz, who grew about 335 acres of peanuts himself in 2012.
Birdsong Peanuts, a world leader in the peanut industry with presence in 10 states, also recently located a new buying point in Arkansas. The new facility in Lawrence County creates an Arkansas-based station for farmers who had previously been taking their yield across the state line to Mississippi to be processed and shelled. The new facility will service more than 15,000 acres of peanuts and create local jobs for the region.
Birdsong supplies peanuts to national companies like Hershey, Kraft, ConAgra, MARS, Nestle and others. The company reports that the United States requires a minimum of 150,000 tons of peanuts per month to meet demand.
Economics remains the main driver for renewed interest in growing and processing peanuts, Baltz says. Many farmers were getting $1,000 a ton for peanuts in 2011. In 2012, "folks who got $750 (per ton) are doing pretty well," he says.
"In general, peanuts are more profitable than some of our other products," he says. "The revenue stream is much better than a soybean."
Peanuts thrive in sandy, dry soils that allow the crop to be pulled easily from the ground. Farmers benefit by rotating peanuts with other crops such as soybeans, Baltz says.
"I believe our goal in Arkansas is probably not to have peanut farmers, as such, but farmers with peanuts in their rotation," he says. "For the folks who have the sandy ground, it just provides them with a diversity of options."