From carp to catfish, aquaculture has caught on in Arkansas – and the state is reeling in the benefits.
Arkansas exports more than 6 billion baitfish nationwide annually, making the small live fish bought by anglers for recreational and sport fishing a leader in the state's diverse $167 million aquaculture industry.
The state ranks second among aquaculture-producing states and leads the nation in baitfish production, raising more than 80 percent of all U.S. baitfish, says Ted McNulty, director of aquaculture at the Arkansas Agriculture Department.
Arkansas also surpasses all other states in production of largemouth bass for stocker fish, hybrid striped bass fry and Chinese carp, according to the Arkansas Agriculture Department.
Rising Costs for Catfish
Not all segments of the aquaculture industry are thriving, McNulty says.
In the last two years, many catfish farmers have either significantly reduced or completely stopped raising the fish, primarily because the cost of feed has risen dramatically. Catfish acreage in the state decreased from about 40,000 five years ago to approximately 10,000 in 2012, he says.
"Back then, farmers were paying $250 a ton for fish feed, and now they're paying close to $600 a ton," he says. "You can see how much the cost has gone up per acre. It's just astronomical."
The University of Arkansas at Pine Bluff's Aquaculture/Fisheries Center hopes to help farmers find a solution to the high feed costs, says Carole Engle, chair and director of the center.
The center has long conducted research to help farmers lower the cost of production and develop new marketing strategies, she says. It recently added a doctoral degree program in aquaculture/fisheries to its existing undergraduate and graduate programs.
It also worked with the state and the industry to create a voluntary certification program for bait and ornamental fish that includes disease inspection, biosecurity and aquatic nuisance species provisions.
Given the increasingly high price of grains like corn and soybeans – which are often used to make fish pellets – the center recently has focused efforts on helping find lower-cost feed ingredients, Engle says.
"We try to come up with answers that are really going to work," she says. "We have a very dedicated faculty here, and they're very committed to trying to solve the problems of the fish farmers in the state."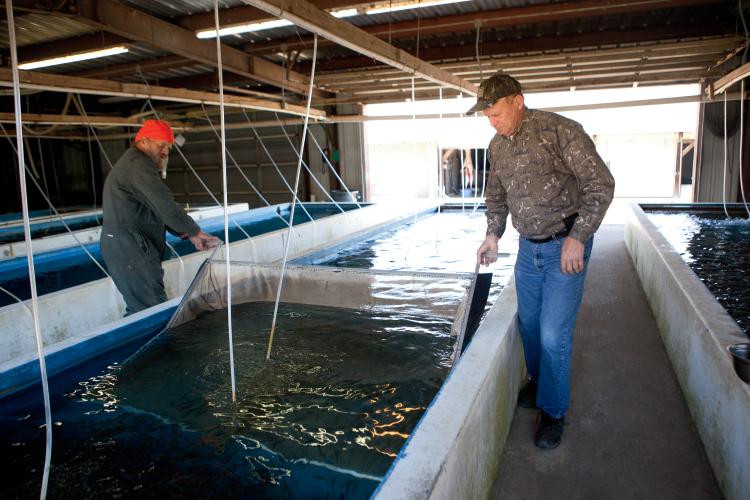 Benefits of Baitfish
The baitfish category also includes small fish that are sold to aquarium markets, says Eric Park, a fish pathologist and owner of Aquatec Fish Farms, Inc., in Cabot, Ark.
Park, who also serves as the president of the Arkansas Bait and Ornamental Fish Growers Association, raises small pink minnows known as rosy reds that he sells to aquarium stores across the country. Park farms about 200 acres and raises about 15 million fish per year.
To begin the baitfish farming cycle, farmers line earthen ponds with a mat on which adult brood fish will lay eggs, typically in April or May. The mats are then collected and brought to an indoor hatchery where the eggs incubate in closely controlled water. After the eggs hatch, the newborn fish need about two to three days to mature before they are taken to a prepared outdoor pond.
"If you just threw them into regular pond water, there are so many things that will eat and kill them," Park says.
It takes about eight to 12 weeks before the smallest fish are ready to sell.
Fish are then typically transported by truck in tanks that feed oxygen into the water, McNulty says.
Park says that baitfish farmers lose about 10 percent of their crop every month to predators, including snakes, frogs and water fowl.
"We try our hardest to chase the predators away," he says. "But most of what we try to do is create an environment they don't like – keeping grass and vegetation really short."