We've got 17 soup, chili and stew recipes to feed the whole crew.
A combination of spicy Italian sausage mixed with with fresh vegetables, like carrots, mushrooms and chickpeas, makes for a delightful weeknight soup.
Serve this soup up with an avocado garnish, a dollop of sour cream (or Greek yogurt to keep things light!) and some tortilla chips for a hearty and flavorful black bean soup.
We love any meal where you can dump it in the slow cooker and forget about it until dinner time. This sweet potato bisque meets all of the quick and easy criteria.
SEE ALSO: 6 Fun Facts About Sweet Potatoes
Cheese makes everything better, including this hearty vegetable soup recipe.
Calling all onion lovers – this soup is for you. Featuring four different types of onions, this French onion-inspired soup will warm you up on the coldest of nights.
Turkey and pumpkin come together to create this spicy, flavorful chili.
SEE ALSO: Pumpkin Fun Facts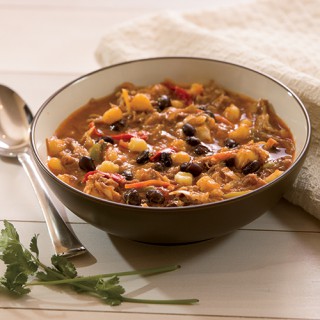 This seriously good soup takes less than 20 minutes to prepare and combines vegetables, spices and barbecue for the perfect zesty combination.
SEE ALSO: What is Hominy?
The best part of this soup is that it utilizes turkey, making it the easiest way to get rid of your leftovers from the holidays!
SEE ALSO: Turkey Trivia
Get in some greens this winter with this savory soup.
This sweet and savory variation on classic chili features turkey, sausage, sweet potatoes and garbanzo beans. We like it best with a piece of cornbread.
SEE ALSO: Jalapeño Cornbread Recipe
Another slow-cooker savior! Served with couscous, a myriad of spices and a dollop of greek yogurt – this stew has a Moroccan kick!
SEE ALSO: My New Best Friend, the Slow Cooker
A lighter take on a classic creamy soup, freshened up with a sprig of thyme and zest of lemon.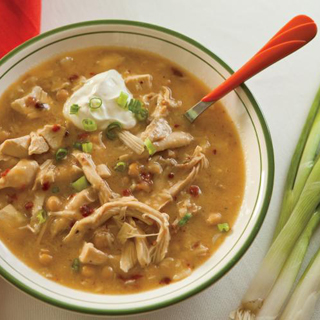 Pop some leftover rotisserie chicken, stock and vegetables into the slow cooker before work, and come home to the perfect white chicken chili.
Thick and heart healthy – we can't get enough of this garden vegetable soup.
Not quite a soup, but you can serve up some Southern-style cooking this winter with this delicious chicken and dumplings recipe.
Sweet butternut squash and spicy sausage come together to create the perfect sweet, but savory soup.
SEE ALSO: Warm Up to Winter Squash
In a pinch and have a crowd to serve? This simple stovetop chili is the one for you!