According to the United Nations official observances, 2013 has been deemed the year of quinoa (which is pronounced "KEEN-wa"). In a resolution adopted by the General Assembly, the UN concluded that quinoa is a natural food high in nutritional value and there is a need to focus the world on diversity of quinoa and the role it can play in providing nutrition and food security in poverty-stricken areas.
While the UN may have more worldly reasons for choosing the grain, we are still excited for the year-long celebration and agree that it is delicious AND nutritious!
Quinoa, though considered a whole grain, is technically a protein-rich vegetable related to beets and spinach. It is very high in fiber and naturally gluten-free. Quinoa is also a complete protein, which means it contains all the amino acids your body can't make on its own. This makes it a perfect choice for vegetarian dishes and meatless Monday. It's super versatile too, and can be used for breakfast dishes, dinner entrees and even in cookies and muffins.
To learn how to shop for quinoa (and other whole grains!), along with storage and prep tips, take a look at our Nutritional Guide for Whole Grains, and check out Myths About Whole Grains to find some surprising facts on this healthy food group.
Below are some of our favorite recipes using the star grain of 2013, along with some great ones from our blogger friends.
Cinnamon Spiced Quinoa with Apples and Sweet Potatoes
Apple Cinnamon Quinoa Muffins by Chocolate and Chou Fleur
Quinoa Spinach Mac and Cheese by Two Peas and Their Pod
Quinoa with Sun-Dried Tomatoes and Feta by Diethood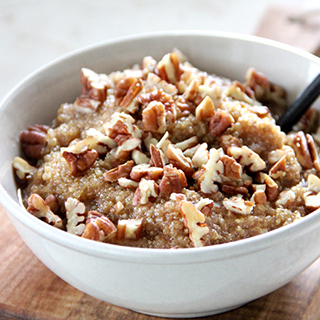 Maple Pecan Quinoa Porridge by Momtastic
Quinoa Stuffed Sweet Potatoes by Leslie Durso
Apple Crumble Quinoa Parfait by Closet Cooking
What's your favorite way to eat quinoa?