It's the last long weekend of summer, and no one wants to spend the whole time laboring over a hot stove in the kitchen. Here are some quick and easy recipes to bring to a Labor Day potluck or just to have on hand.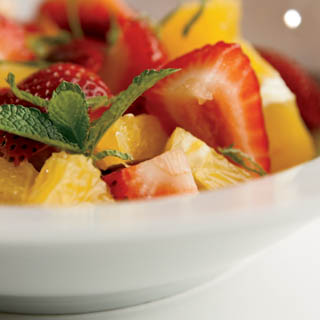 Orange Strawberry Salad With Sweet Mint Dressing
Yes, you do have to hull and slice the strawberries and cut the oranges into chunks, but if you're really feeling lazy this weekend, you can often by pre-cut fruit in the produce section at your grocery story. Toss with brown sugar, mint and a little orange zest, and this fresh fruit salad can just chill until you're ready to indulge.
Got a knife and some cucumbers from your local farmers market, CSA or grocery store? Thinly slice the cukes into a covered container, toss with salt and sugar, and let marinate for a few hours. Voila, you've got homemade pickles!
These cheesy, crispy snacks are unbelievably simple. Just take some shredded Italian cheese – Parmesan, Asiago and Romano – and create mounds on a lined baking sheet, almost as if you were making cookies. Sprinkle each mound with lemon pepper (if you don't have this on-hand, you should – it's great for adding flavor to seafood recipes), and bake for just a couple minutes. You can't just put this in the oven and forget about it, but the crisps will be ready before you know it. Allow them to cool for a few minutes, and they're ready to enjoy.
This may not be the prettiest recipe photo on our site, but this easy slow-cooker roast recipe makes up for it in flavor – and its simplicity. Just take a roast, Italian dressing mix, onion-mushroom soup mix, a can of cream of mushroom soup and a jar of peperoncini peppers, and a few hours later, dinner will be done. Use a slow-cooker liner, and you won't even have to do dishes.
Get in the fall spirit with this super-simple autumn appetizer. The recipe just calls for a can of pumpkin, cream cheese, brown sugar and a dash of pumpkin pie spice (available in the spice aisle at your grocery store – or use the cloves, allspice, nutmeg and cinnamon from your kitchen's spice rack). Let it chill, and serve with seasonal apples and pears.
Do you have any favorite Labor Day recipes, labor-less or not? Let us know in the comments below, and have a safe and fun Labor Day weekend.