Fourth of July might just be my favorite holiday. And not just because it's my half-birthday (when you're born around Christmas and New Year's, you gotta celebrate biannually). Sure, it's hot – okay, sweltering – but it's the only time of year when, here on the eastern end of the central time zone, the sun doesn't set until after 8. To throw a three-day weekend in the mix just makes it even better.
It's also the time of the year when my garden is just starting to reap the fruits of my labor. I have lettuce for days, my peppers (bell and habanero) are looking good, my squash is out of control and my onions are perfect.  The tomatoes are coming on strong, though they aren't quite ready yet.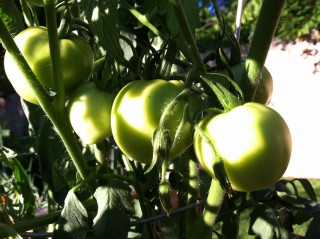 But green tomatoes mean one thing here in the South (and to Fannie Flag fans) – fried green tomatoes. I've never actually made them, but since I have three other tomato plants looking like this and a long weekend to boot, I think this might be summer weekend to make an attempt at this classic.
That's just one of the great recipes in our collection of Fourth of July Recipes, which covers your Independence Day on all culinary fronts. Fire up the grill for some burgers with a creamy beer cheese sauce, roasted corn on the cob and balsamic-seasoned vegetables. Heading to a potluck where you're not the grillmaster? Bring some veggie-rich fresh corn salad, cool-with-a-kick horseradish potato salad or crowd-pleasing cucumber-dill deviled eggs.
And no holiday menu is complete without dessert. Go patriotic with the red, white and blue meringues, in which egg whites and sugar are baked and topped with in-season berries. Put your ice cream maker to good use with our recipe for peach ice cream. Try your hand at what might be our all-time most popular recipes, key lime cake. But in my opinion, no summer dessert can beat a fresh berry pie. (Unless you top it with that peach ice cream.)
I'm no Whistle Stop Cafe, but I'll be trying out the fried green tomatoes, along with one or two other recipes. What's on your menu this Fourth of July weekend?