For decades, we've heard the term fusion in regard to restaurants, such as Tex-Mex, Asian fusion, etc. And while they've been around for some time, it seems that food fusions or hybrids – taking two or more foods you wouldn't normally associate with each other and combining them into a single dish – are becoming more popular than ever.
There's just something about food fusions that I find fascinating. Sometimes it's the "But I thought of that first!" problem. For example, a friend of mine served me a taco salad with Doritos in place of corn chips years before Taco Bell launched its nacho-cheesy and cool-ranchy loco shells. Other times, it's the rubberneck effect. You don't really want to try it, but your curiosity gets the better of you. I put bacon-flavored anything in this category – popcorn, chocolate, bourbon, etc. And sometimes, it just sounds like a heavenly combination on the level of peanut butter and jelly or macaroni and cheese… Enter the cronut.
Cronut
I've been hearing about this for weeks now, and I simply cannot ignore it any longer. While I'm not a huge pastry person, I enjoy a bagel, scone, muffin or (recently) kolache every now and then. But doughnuts are a guilty pleasure, and I absolutely love croissants in all their flaky, buttery goodness. I can't believe it's taken us 175 years to combine the two treats, which were both invented around the 1830s.
Of course, it's not like there are cronut-peddling bakeries popping up on every street corner. You have to go to New York's Dominique Ansel Bakery, where Chef Dominique Ansel spent months perfecting the recipe, and wait in a 2.5-hour line to get up to two of the insanely popular treats. I understand that these fancy pastries take three days to make and have taken the Internet by storm, but I can think of at least a dozen ways to better spend two hours on my next trip to New York. So, unless Dominique follows the New York Times to my neighborhood or a cronut copycat opens up around here, I'm out of luck for now.
Townie
Next up, we have the townie. If you think it sounds British, that's because it is – a brownie inside a tart, crafted by Bea's of Bloomsbury. I'm sure they taste great, but to me it just seems like mini chocolate fudge pies. I don't know if they don't have Southern-style chocolate pies across the pond, but I don't think this has the unique appeal of cronuts or even another treat from the same bakery, the duffin (doughnut muffin, of course).
Ramen Burgers
On the more savory side of the spectrum, Ramen Burgers. I'd put this in the category of foods I wouldn't seek out, but I'd try it once just for the sake of the story. I spent my sophomore year of college on a diet consisting primarily of ramen and double cheeseburgers, but it never in a million years crossed my mind to combine the two cheap eats into one greasy, carb-tastic, carnivorous meal. Buns made from ramen noodles are the signature touch, though professional ramen blogger Keizo Shimamoto also touts his burger's secret sauce. Of course, his other secret is using fresh ramen, not the instant stuff you can get for a dime, to craft a ramen bun that's crispy on the outside but soft on the inside without falling apart. Like the cronuts, his first few weeks selling burgers at a Brooklyn flea market have drawn big crowds and long lines. We'll see if this current craze lasts long enough to stand the test of time.
Spaghetti Pizza
Finally, we have spaghetti pizza. You can find this blend of two Italian favorites at a number of restaurants, but our photographer bravely ate a slice at Al and Leda's Pizzeria in Dixon, Illinois. He reported back that it tastes like Spaghetti-O's on a pizza crust – not bad, but not his personal favorite. Of course, pizza lends itself well to becoming a palette for culinary fusion far beyond pasta.
Strong recipe development is the trick to any successful food fusion. Anyone can turn two weird foods into one dish, but you have to develop a high-quality recipe to get everyone on board with your unusual creation. That's why doughnut burgers and deep-fried beer haven't made it beyond the state fair setting, or why Pepsi-flavored Cheetos and hotdog pizza will never catch on here in the U.S. quite like the infamous cronut.
However, there are several culinary food fusions that you can make in your own kitchen. Which food fusion fads are you interested in trying – and which ones did we leave off the list? Sound off in the comments section.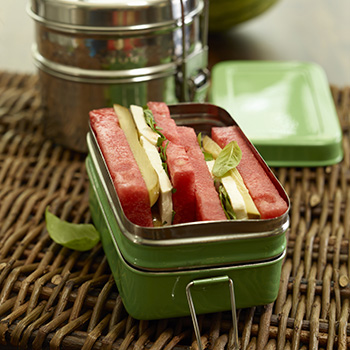 Images: dominiqueansel.com, beasofbloomsbury.com, ramenburger.com, pillsbury.com, the-girl-who-ate-everything.com