Since joining Pinterest, I've realized that while I am a food fanatic and love experimenting in the kitchen, I don't fall into the other category of recipe collectors: the crafty cooks. Holidays – the more widely celebrated ones, not National Dark Chocolate Day or Potato Lover's Month – really bring out the creative, detail-oriented recipe posts on Pinterest, and Valentine's Day somehow goes beyond the more food-centric holidays such as Thanksgiving. Macarons, mousse, truffles, towers of brownies, strawberries and cream… yes, Valentine's Day is a baking holiday, promoting daunting yet gorgeous sweet desserts filled with red fruits and, quite often, chocolate.
Though I'm not a crafty cook – decorating with frosting is not my strong suit (nor is food photography, which is why we typically leave that to the professionals) – I did decide to get into the spirit this weekend by whipping up a batch of Fresh Strawberry Muffins. (After all, grocery stores get into the holiday theme too – strawberries were on sale, which is what inspired me.) I had big plans to top them with a homemade chocolate cream cheese frosting, but these not-too-sweet breakfast bites were tasty enough on their own (and healthier that way, too). In fact, in less than two days, the three of us in my house this weekend had devoured 11 out of the dozen.
Now if you're more of a sweet-lover, I have to recommend our Strawberry Cake, hands down the most popular recipe on this website for the past month. This pretty-in-pink cake is a throwback to recipes found in your grandmother's kitchen, giving it a nostalgic touch for Valentine's Day. And with more than 20,000 pins on Pinterest, it's a hit. We were so excited by the recipe going viral that we had a little celebration – with this cake, of course.
Now, February is National Chocolate Month, naturally, and these chocolate pots de creme add a decadent touch to any Valentine's Day. But as much as I like our recipe, I'd also like to direct your attention to this shockingly easy chocolate mousse recipe from Farm Flavor food stylist Mary Carter (featured on an awesome Southern style blog, Style Blueprint). If you scroll down, you'll get to the official instructions: Melt semisweet chocolate chips in the microwave, and puree with silken tofu. The end. Wow.
Here are a few more mouthwatering recipes from other food bloggers:
Homemade Marshmallow Conversation Hearts from A Farmgirl's Dabbles
Red Velvet Cheesecake from Brown-Eyed Baker
Triple Chocolate Truffle Bombs from Bouffe e Bambini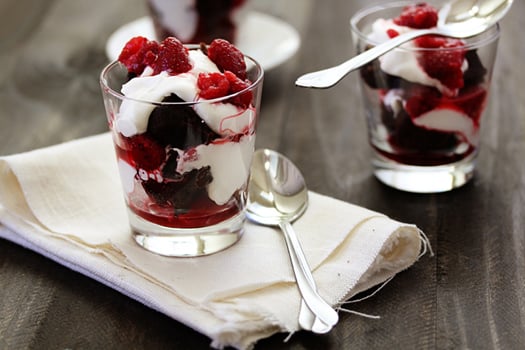 Raspberry Brownie Parfait from Good Life Eats
Are you drooling yet?
And if you prefer to enjoy a romantic dinner at home, here are a few entree ideas (feel free to mix and match!).
Glazed Pork Medallions with Roasted Asparagus
Marinated and Grilled Steak with Horseradish Mashed Potatoes
Roasted Chicken Thighs with Marsala Carrots
Cedar-Plank Salmon with Mediterranean Orzo Salad
And if you're still unsure, check our Valentine's Day recipe collection. Happy Valentine's Day, and bon appetit!