I'm prepping for baby to arrive, and I decided that we might like to eat when he gets here. I spent the weekend making tons of dishes to freeze so all we have to do is grab and reheat. I went through 11 large chicken breasts, 8 pounds of ground beef, 5 29-ounce cans of tomato puree, and 3 bulbs of garlic. Wow!
Here are a few tips for prepping post-partum meals:
1. Don't forget to think about breakfast, lunch, dinner, sides, and snacks.
2. Since mom will be recovering, make it easy for others to prep the food with reheating instructions and easy to heat containers. Those disposable aluminum pans are cheap and easy to use (and clean up!).
3. Package most things in easy to use portions for one or two. That way you won't get sick of eating a gigantic pan of lasagna. Meals will thaw faster this way.
4. Keep things versatile. For example, I made fajita-seasoned chicken that can be used for white chicken chili, quesadillas, or as it is for an entree.
5. You don't have to complete the meal. It's also helpful to make up components, like spaghetti sauce without the pasta and the majority of what you'll need for a crockpot meal.
There are lots of great recipes that lend themselves to post-baby freezer cooking. Below are a few of my favorite recipes.
If all else fails, show your husband or your mother to the Quick, 5 Ingredients or Less, or No Cook sections!
Hearty Oatmeal with Pears, Raisins and Pecans
Make several batches and freeze in individual servings for an easy breakfast.
Pear-Carrot-Cranberry Muffins
These healthy and filling muffins would be great for breakfast or a snack.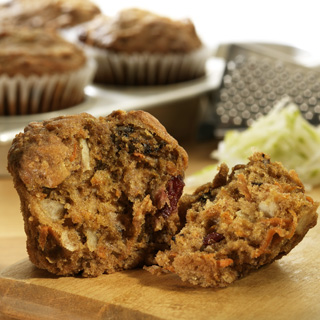 Slow Cooker Roast Chicken
This versatile roast chicken will be so handy to have on hand as an entree or component of other chicken dishes.
Tamale Pie
Prep and freeze the filling and add the cornbread topping when you bake for a warm and hearty meal!
Reduced-Fat Chocolate Chip Cookies
Prep the dough and flash freeze in small balls on a cookie sheet. Once frozen, transfer to a plastic storage bag. To cook, follow the remaining instructions, adding a few minutes to the cook time. These will give you something sweet to munch on in smaller quantities when you're on your way to your pre-baby body (I've heard that's a myth though).
About the Author: Becca Ary blogs about her adventures in the kitchen and around the house at BettyBecca.com.