Each year Santa travels the world in one night to deliver presents and let's face it, the big guy has over 80 million homes to visit each year on Christmas Eve. That is a lot of Christmas cookies to eat! We have the ultimate guide for sweet surprises that will set your house apart when Santa comes to visit.
If you're needing cookies in a pinch, this recipe is for you. Dress up store-bought gingersnaps and a white chocolate and lemon mixture to create a fruity spin on a classic Christmas favorite.
Cranberries and pecans set these shortbreads apart. The sweetness of the cranberry and the added crunch from the pecans make this Christmas cookie recipe stand out from the crowd.
SEE ALSO: How Cranberries Grow in Wisconsin
High in antioxidant-rich Vitamin E and containing one-half whole grain per cookie, Santa can watch his figure this holiday season! Pro tip: Switch out the suggest jams with your favorites to mix up the flavors.
This is not your average gingerbread man. Sweet sorghum adds amazing flavor to winter's classic cookie recipe.
A classic chocolate chip cookie with a twist! Use up leftover candy canes to make these delightful dessert.
Hazelnut Chocolate Chip Cookies
This gluten-free cookie recipe hails all of the way from Bob's Red Mill in Oregon, and every mouthwatering morsel is sure to be eaten.
SEE ALSO: Hazelnuts From Tree to Table
Chock full of fiber, protein and healthy fats, the pecans in these chocolate turtles will help Santa be full of energy as he makes his way to the next house.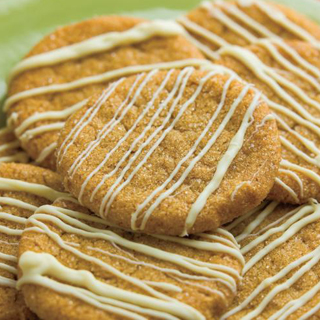 Spruce up the classic gingersnap cookie with a decadent drizzle of white chocolate. This tasty treat will have Santa reaching for seconds!
By the time Santa reaches your house, he'll probably be craving something savory, and boy, do these bacon and peanut butter cookies fit the bill. Designed to be the perfect combination of sweet and salty, we're positive the man in the red suit will remember your house for years to come.
SEE ALSO: 8 Fun Facts About Peanuts
These chocolate chip cookies are so delicious that it is rumored that someone once paid $1,000 to get Neiman Marcus' secret chocolate chip cookie recipe. Seriously, they are that good.
A little bit sour and a lot sweet, these lemon balm cookies cannot be beat. And you can argue that the leafy greens from the lemon balm is basically like a fresh herb salad, right?
Combining three types of ginger, which is known for its powerful anti-inflammatory and antioxidant effects, into one cookie, these sure pack a punch!
After all of his travels, Santa deserves something decadent. Twice-baked and doubly delicious, this biscotti recipe contains espresso powder, which will help Kris Kringle have the energy to finish delivering presents.
What if we told you that these boss bars were low-fat? Both kid-friendly and waist-line approved, this recipe combines a love of cookies, peanut butter and s'mores. It's almost too good to be true!