Whether it is the perfect complement to a gooey slice of chocolate cake, the finishing touch on a hamburger or the creamy beginning to your day, you can find a dairy product to suit your every craving. Celebrate all of the delicious and nutritious forms of dairy by participating in June Dairy Month. (Related: June Dairy Month Turns 75)
This food group is worth celebrating because it contains key nutrients your body needs to be healthy and happy. Dairy is one of the top sources of calcium and phosphorus which help you maintain strong teeth and bones. It also contains vitamin D, which increases your body's absorption of calcium and phosphorus, making it a powerful weapon against osteoporosis. Bones aren't the only things dairy protects. The consumption of dairy products has been associated with a reduced risk of heart disease, Type 2 diabetes and high blood pressure.
Here are some smart and delicious options that will make your body – and your taste buds – thank you. (Related: More Milk and Dairy Recipes)
Yogurt
Yogurt can be eaten as a meal in itself or used in a variety of creative recipes. Yogurt promotes healthy digestion in addition to keeping you full and reducing overeating. Enjoy these decadent yogurt recipes.
Healthy Breakfast Smoothie: Start your day off right with a smoothie that packs a protein punch.
Easy Yogurt Veggie Dip: Wow your guests with this simple and satisfying snack.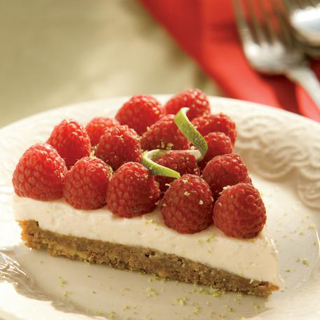 Raspberry Lime Tart: This flavorful summer dessert will leave your palate singing.
Ice Cream
The summer is not complete without indulging your favorite flavor of ice cream. In fact, 90 percent of all Americans enjoy eating ice cream at least once a year. Tickle your taste buds with these ice cream recipes.
Avocado Lemon Ice Cream: Enjoy a twist on tradition with this refreshing taste combination.
Goo Goo Cluster Pie: Candy, ice cream and pie united in one mind-blowing dessert.
Fresh Peach Ice Cream: You can practically taste summer with this front porch favorite.
Cheese
Cheese doesn't have to be a guilty pleasure. Most cheeses are gluten free and are good sources of protein, calcium and phosphorus. You can pair this dairy product with fruits, vegetables, grain or meat to create unique dish or meal. Check out these cheese recipes that will make you melt.
Country Quiche: A hearty dish appropriate for breakfast, lunch or dinner.
Apple Cheddar Mac and Cheese: Relive your childhood with a fruity variation of this comfort food.
Beef Classic Burgers with Cheese Sauce: Revolutionize your grilling experience with this recipe.
What's your favorite dairy product or dairy recipe? Let us know by leaving a comment below.