Spring is a time of new beginnings, fresh blooms and delicious fruits and veggies.
But what exactly is in season for spring? There are some springtime staples like strawberries and asparagus, but the season also gives us some not-as-popular (but equally delicious!) produce such as radishes, mangoes and leeks. And with spring being a season of new beginnings, what better time to try some of these different ingredients?
Below is a list of fruits and vegetables we can look forward to eating this spring. Which one are you most excited about?
1. Asparagus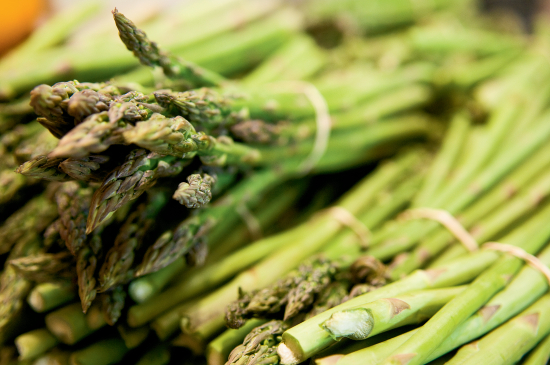 Asparagus is at its peak from March till May. The green veggie is high in fiber and vitamin K, and can be broiled, steamed, grilled, roasted or sauteed. Try it in delicious recipes such as Asparagus Pizza Bianca and Lighted Up Cream of Asparagus Soup.
2. Artichokes
Artichokes are most fresh from March through June, while their petite versions (baby artichokes) can be found from March through May. When buying artichokes, look for plump ones that feel heavy for their size with tightly closed leaves. You can pull back the outer leaves to check that the insides don't have black spots.
3. Leeks
This vegetable, a member of the onion family, is actually available year-round, but its peak season is in the spring. Use leeks and other seasonal veggies in recipes for Garden Vegetable Soup or Fire-Roasted Balsamic Vegetables. (Photo courtesy of Flickr user danbruell)
4. Mangoes
Tropical mangoes aren't usually grown in the United States, but in exotic locations where they're harvested, their peak season is from April through June. The juicy fruit is rich in antioxidants like vitamin A and C. When buying mangoes, choose ones that are slightly firm – they'll be easier to cut. Try them with pork in this Caribbean Pork and Mango Salad recipe.
5. Peas
Known as both shell peas and garden peas, this vegetable enjoys a short-lived season from late spring to early summer. They're at their best in May. Use this veggie in Green Pea Soup with Fresh Mint or Risotto with Peas.
6. Pineapple
Fresh pineapple is best from March through June. Select fresh pineapples that seem heavy for their size with dark-green greens. Avoid soft spots and dry-looking leaves. This tropical fruit is perfect in Tropical Fruit Salad with Creamy Lime Mint Topping.
7. Radishes
Radishes are another vegetable that can be found year-round, but are at their freshest and tastiest in the spring. Enjoy their crisp bite in Summer Slaw with Creamy Jalapeno-Citrus Dressing.
8. Rhubarb
Some people think rhubarb is a fruit, but it's actually classified as a vegetable. It's available from April to June, and usually a little later. Try it in Strawberry-Rhubarb Angel Food Cake.
9. Strawberries
A true spring staple, this bright red fruit is bursting with nutrients to support brain and heart health. They're at their sweetest from April through July but can be found as early as March and as late as October. Use them in Fresh Strawberry Muffins or make your own Strawberry Freezer Jam.