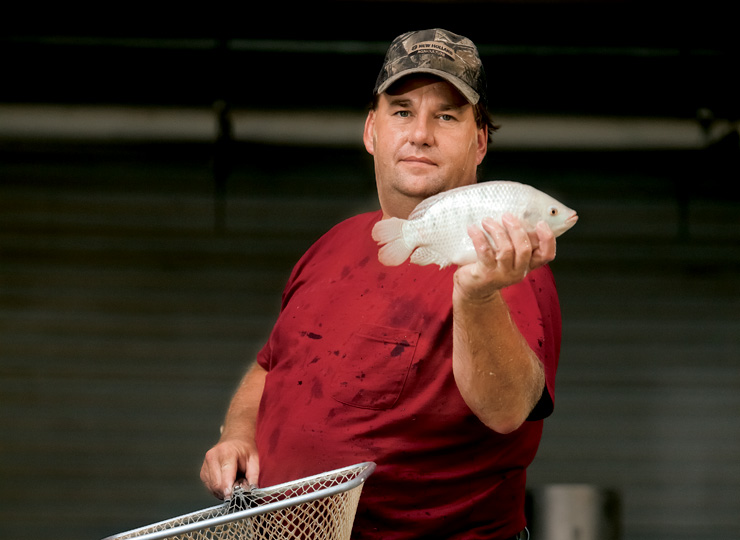 When Langdale Farms sought supplemental income, the idea for indoor fish farming floated to the surface.
While Georgia primarily imports tilapia, after a decade raising the fish in addition to producing row crops, nuts, tomatoes and cattle, the folks at Langdale Farms can affirm tilapia are just as good raised in Georgia.
"Aquaculture in and of itself hasn't had a lot of exposure yet," says Mike Royals, fish farm manager for Langdale Farms. "There are very few people who really understand what we do and how we do it."
U.S. aquaculture doubled production each decade during the past five decades, says Pat Duncan, director of the Georgia Center for Aquaculture Development at Fort Valley State University. Georgia possesses "huge potential" with its mild climate, abundant aquatic resources, major seaport and major international airport, she says. The developing emphasis on local food production and consumption also favors aquaculture development, even on a small scale.
In 2009, 399 operators produced fish valued at nearly $52 million, according to a University of Georgia report.
The state's aquaculture industry supplies fish for recreational, ornamental and food use. Fish include trout, catfish, carp, bass, clams, crabs and even alligators.
"The great growth in recreational fishing throughout the country has created additional value for aquaculture," Duncan says. "Even though some farmers got out of catfish farming because of feed prices and low filet prices from the processors, the higher value of fish is already causing farmers to come back into fish farming."
After more than 10 years, Langdale Farms continues to produce 250,000 pounds of tilapia per year inside their Valdosta facility, Royals says. Langdale Farms serves as a producer grower, compensated for gain in weight. The Farmer's Catch division of Southern States Cooperative owns and markets the fish.
The fish arrive at 100 grams and leave at 1 ½ pounds, sizable enough for filets. A company ships the fish to wholesalers, who distribute to high-end restaurants and other markets across the United States and Canada.
The tilapia live indoors in a recirculating aquaculture system (RAS), considered the most efficient seafood production system for the future of aquaculture. Fort Valley State University studies RAS technology and its use with marine species. The university also practices aquaponics, the combination of RAS with vegetable production.
Langdale Farms owns a dozen 15,000-gallon tanks regulated for water quality and temperature. At just 10,000 square feet of space, the fish farm produces significant product on a small ecological footprint, Royals says.
A filtration process separates solid waste from the water for use as a biological fertilizer on the farm's fields. The water then enters a biological filter to remove nitrites and nitrates. It re-enters the fish tanks after a cycle through the oxygenation filter. The recirculation process results in little waste, he says.
Royals proudly boasts the facility's environmental stewardship, and is excited about aquaculture's potential in the state.
"The demand for aquaculture is going to get bigger and bigger in Georgia," he says.