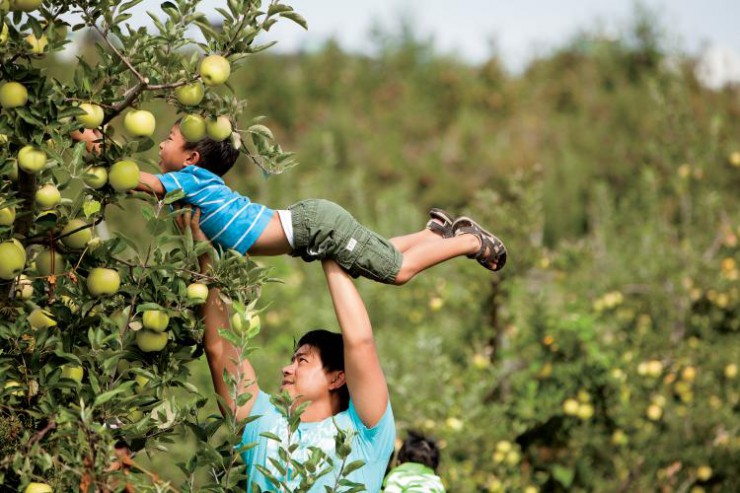 What happens when you combine agriculture, the number-one economic generator in Georgia, with tourism, the number-two? Plenty.
You get an industry that offers leisure fun, education and entertainment for the public, provides a financial opportunity for the agriculture community, and creates a significant economic impact for the state – a $138 million impact in 2011 alone.
From wineries to U-pick farms to grist mills, agritourism in Georgia covers a lot of ground. Creative farmers open up their homes, their land and their minds to establish new ways to engage the public, promote the industry and supplement their income.
"The creativity of the ag community drives the success of the industry," says Cindy Norton, agritourism manager for the Georgia Department of Agriculture. "There is great growth potential, especially for those who are willing to experiment, to find something unique that they can add to their current operation or to capitalize on what the public is asking for or is interested in."
For kids, that might be enjoying corn mazes and feeding farm animals. For families, it could be picking apples or riding horses. For couples, maybe it's a bed-and-breakfast, a farm stay or a wedding on the grounds of a winery. Whatever it is, Georgia agritourism has something for everyone.

Fun on the Farm
Calhoun Produce in Ashburn is one of the many Georgia agriculture businesses that have built a successful niche in agritourism. Primarily a butterbean and pea farm, Calhoun's added a U-pick strawberry patch in 1996 that began its transformation into a tourist destination. Other additions include a store, a corn maze, a pumpkin patch, a goat walk, a honeybee house, a sunflower field, a picnic pavilion and the list goes on.
"Each time we add something new, we get positive feedback from our customers," says Sheila Rice, a member of the Calhoun family. "We constantly have people on the farm because we have something different for each season. They look forward to seeing what we'll add next."
In the midst of all that activity, the Calhouns continue to grow, harvest and process butterbeans and other vegetables. They include a tour or their packing plant as one of the many activities visitors can enjoy.
"We have an opportunity to connect people to agriculture," Rice says. "While they're here there's lots for them to enjoy, but it's also a chance for them to learn about many different aspects of farming. We host field trips for school groups of all sizes and ages. Teachers appreciate the chance for their students to get hands-on experience with agriculture."
Branching Out
At Mercier Orchards in Blue Ridge, visitors can get a glimpse of a large-scale fruit-growing operation and enjoy the fun of picking some themselves.
"We've been in business since 1943 but are relatively new to agritourism," says Tim Mercier. "We were the first to start U-pick apples in Georgia, and it's become very popular. In fact, we're looking to have 90 to 100 acres devoted exclusively to U-pick."
Every weekend from mid-August through October, visitors can walk the orchards and choose ripe, juicy apples off the trees. When other fruits are in season, Mercier adds U-pick opportunities for those as well. And if that's not enough, visitors can shop Mercier's full-line farm market, open all but four days a year, and tour other facilities on the 300-acre farm.
"Visitors can see the packing line when they're at the farm market and the cider production line when they're in our hard-cider tasting rooms," says Mercier. "We have a wholesale bakery, where we make 10,000 pies a day, and tours can be arranged to see that process, too."
The number of visitors changes with the seasons, fall being the busiest time.
"In October, we could have thousands of people a day going through the market," says Mercier.
This multigenerational farm family doesn't just wait for people to come to them. They take their agritourism act on the road, driving their mobile pie kitchen to special events like the Kentucky Derby and NASCAR races to promote their business and the agritourism industry.
Norton says that businesses like Mercier Orchards and Calhoun Produce and many more like them in the state have developed a winning formula that appeals to the public.
"More and more people are interested in learning about local food and the farmers who grow it," she says. "Plus, they are looking for enjoyable, family-friendly activities that are unique and close to home. Georgia's agritourism industry gives them lots of options."