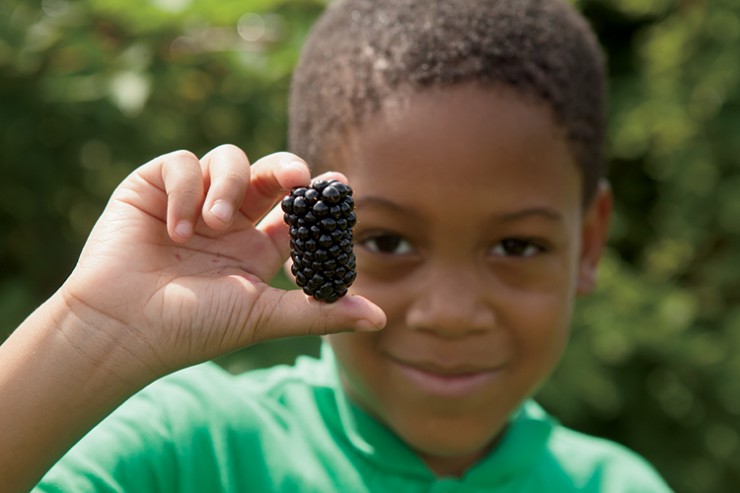 When Jake Carter returned home from the University of Georgia in 2003 to work on the family farm in McDonough, he had no idea what he was in for.
"It was a different operation at that time," says Carter, who is the fifth generation to farm the land. "We had some beef cattle and hay. But the community around us was growing, and pretty soon we realized we needed to diversify what we were doing to keep up. So we decided to transition to agritourism."
In 2006, the farm that has been in Carter's family since 1938 opened its gates to the public. Today, Southern Belle Farm is a sterling – and profitable – example of what happens when the state's two largest industries, agriculture and tourism, merge.
During the autumn months, the farm hosts church groups, school field trips and families searching for the perfect pumpkin. Children enjoy getting lost in the corn maze, taking a leisurely hay ride tour of the 330 acres or getting to know the farm's barnyard inhabitants.
And in December, families from Atlanta and surrounding areas descend on the farm to pick out a Christmas tree. The farm opens up again in April through June for strawberry, blackberry and blueberry picking by the gallon.
Rooted in Education
"What we offer is an opportunity for families to come out and enjoy time together," Carter says. "It's a people back to their roots. Most people can trace their heritage back to agriculture in some form or another."
Carter says the farm also helps educate his neighbors about agriculture and the source of the foods they eat.
"A lot of the consumers and public were asking a lot of questions. When I was growing up, [we operated] a dairy farm, and neighbors would ask questions about farming, so we saw a need to create something that would educate the public about agriculture," Carter says.
He adds that educating children is incredibly important, especially once he realized how little they knew about agriculture.
"We really had our eyes opened during our first season of school tours," he explains. "We had children in the dairy barn, and when we asked them where milk comes from, a lot of them said Kroger and Publix. Allowing them to see how food is grown first-hand is a unique and important experience."
Carter is quick to emphasize that Southern Belle is a working farm, and he says he hopes its agritourism will dispel some of the myths about farming.
"You have a lot of misconceptions about how food is grown, and people are asking questions because of those misconceptions," he says. "But we still farm conventionally, so we have the opportunity to show people that what we grow – and what other farmers grow – is safe for the community."

Fun For The Family
"In the north Georgia mountains, you can find apples and cherries, and in deep south Georgia, you get peanuts. It's such a diverse crop base in Georgia," Carter says of the state's agritourism scene.
The farm has also proven to be a boon for the local economy. The Carters employ up to 80 seasonal employees annually and are looking to expand the operation in the near future.
"One of the things we want to do is continually add things that families can do and enjoy together," Carter says. "We're looking at expanding the farm market to include a bakery and extending our operating days so that we're open year-round. Folks can come out and enjoy the farm more than once or twice a year."