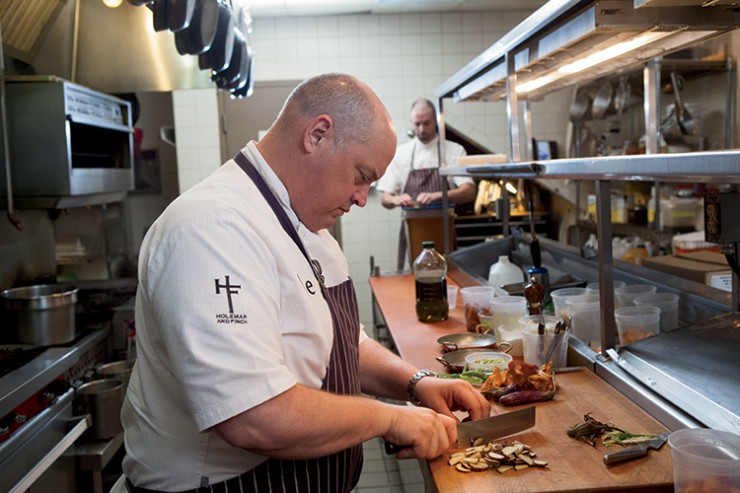 Chef Holly Chute knows local. Through the Georgia Department of Agriculture's Georgia Grown Executive Chef Program, a partnership with the Georgia Restaurant Association designed to engage chefs across the state with Georgia products, Chute has traveled across the state introducing chefs and consumers, schoolchildren and teachers to the state's commodities and the people who grow them.
During her 33 years as the executive chef at the Governor's Mansion, the occupancy changed six times. But one thing that never changed was Chute's dedication to serving dishes made with Georgia-grown products.
"We were proponents of using Georgia-grown products and loved serving food made with these products to dignitaries and other guests," she says.
Chute says engaging chefs and restaurateurs has become less challenging thanks to other farm-to- table champions, such as Chef Linton Hopkins of Restaurant Eugene in Atlanta. Hopkins is passionate about sourcing locally.
"To be a good chef is to know your ingredients, and here that means cooking 'Georgia,'" Hopkins says. "It's important for chefs and growers to stand side-by-side to help create systems around good, wholesome food."
Hopkins says he enjoys teaching through his food and educating consumers about the entire farm-to-table process.
"It requires a lot of different people, farms and ingredients to help build a robust cuisine and culture of food," he says.
Hopkins says he wants people to know that they can go to a farmers market, buy a Georgia watermelon in July, and that it'll be at its most delicious because it's in peak season, and that Vidalia onions a month out of the ground taste amazing.
"People will come into the restaurant, eat a tomato and ask 'Why are these tomatoes so good?' or, 'Why are these peaches so great?' I can respond with transparency because I know exactly where all of my food comes from, but a lot of times that surprises them," he says. "People are surprised by good food and that good food is available just outside their back door."
Roberto Leoci, a newly appointed Georgia Grown Executive Chef and head chef at both Leoci's Trattoria and Pacci Italian Kitchen and Bar in Savannah, adds that sourcing local is not only important to educate consumers, but also to keep the industry viable.
"The more local ingredients you use, the more acceptable it becomes," Leoci says. "It works on supply and demand, and those small farms and businesses will be able to thrive."
Leoci relocated to Savannah after being drawn by the fresh year-round vegetables and the closeness of the ocean. He makes fresh sausage and salamis using local meats from Hunter Cattle Co., and sources other local ingredients such as ginger, turmeric, cream and eggs.
"My favorite dish is carbonara, which uses diced pancetta, a cream sauce, local eggs and pasta made from scratch," Leoci says. As with Leoci's carbonara, Hopkins says that providing deliciousness is at the core of the Executive Chef Program. "My favorite dish on Restaurant Eugene's menu is the vegetable plate," he says. "Even in the culture of a fine dining restaurant, there is community in a shared vegetable plate. Everything is Georgia-grown and of the season, so it changes throughout the year. I think it is really reflective of what food is to me more than any other plate."
Chute agrees that her favorite menu items are those she creates totally from Georgia-grown products. "I love working with Vidalia Onions," she says. "But I also make a great country ham, shrimp and grits."