When Weeks Honey Farm owner Ray Crosby introduced a new product in the jams and jellies category of the 2014 Flavor of Georgia contest, his eventual win was all the more impressive because it was his first time to enter.
It wasn't his only first, however.
"I jokingly tell people it's our first new item in 54 years," Crosby says of his cinnamon honey spread, which is made at the farm his grandfather started in 1960. "I started researching it and was fascinated about it," he says of the different attempts at finding the right formula. "We went through tens of thousands of pounds of honey to see what worked best. It's nothing but pure honey mixed with Ceylon cinnamon."
Spotlighting Good Foods
The Flavor of Georgia contest, which has been held annually since 2007 and is sponsored by the University of Georgia Center for Agribusiness and Economic Development is designed to spotlight market-ready food made in the state. Entries are judged on flavor, best use of Georgia ingredients, theme, unique or innovative qualities, commercial appeal and originality.
Most See Sales Increase
Nearly 900 food products have gone through the contest since its beginning, and finalists indicated that nearly 11 percent of their revenue has been due to contest participation. It is estimated that the Flavor of Georgia contest accounts for about $3.1 million in economic contribution to the state.
There are nearly a dozen categories participants can enter, including meats and seafood, barbecue and hot sauce, beverage, dairy, snack food and others. Awards are also presented to a grand-prize winner and a people's choice selection, which were won in 2014 by Nature's Harmony Farm in Elberton and Leoci's Fine Foods in Savannah, respectively.
Nature's Harmony Farm won for its Georgia Gold Clothbound Cheddar cheese, a traditional English cheddar made from raw cow's milk and wrapped in cheesecloth to age for six to 12 months.
"We entered it into the contest because we're very proud to be one of the few farmstead cheesemakers in Georgia that complete the cycle of grazing to milk to cheese," says Tim Young of Nature's Harmony.
He adds they were surprised that they won, given the outstanding competitors they were up against, but are honored and thrilled to bring attention to the excellent artisan cheese Georgians can produce.
Young says the recognition has been wonderful for Nature's Harmony, and the Georgia Gold variety has become its most requested cheese. They've also doubled the number of cows they have to produce enough milk to meet demand.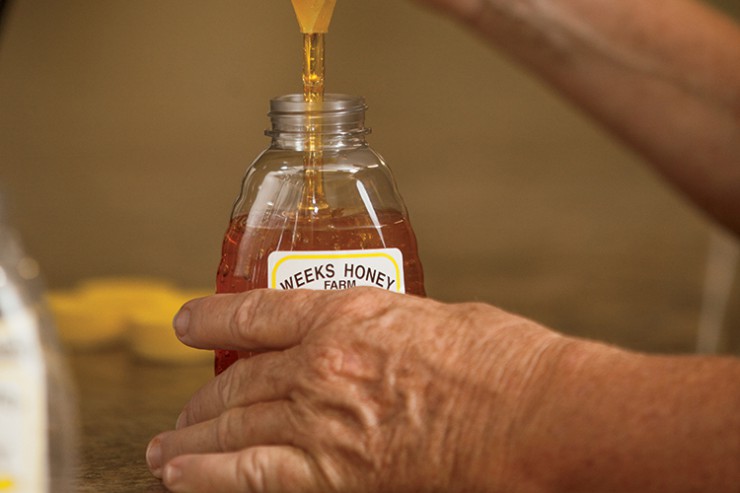 Winners also earn the right to have their products stamped with the Flavor of Georgia logo, and about 80 percent of the finalists see an increase in sales and business contacts after the contest.
"It gives them a lot of publicity," says Kent Wolfe, CAED director. "We help with press releases to go out to the media where the winners and some of the other finalists are located. The contest itself generates a lot of publicity. A lot of retailers, food brokers and people who make purchase decisions go to the contest, so participants get great exposure."
After a half-century of producing only honey at their farm in Omega – growing from a two-hive beekeeping hobby to nearly 6,000 hives today and sales at retailers throughout Georgia – Crosby and his family broadened business by introducing the cinnamon honey spread. He says the win in the Flavor of Georgia contest helped in particular.
"It's been a huge benefit," he says, "and gave us some bragging rights. It shows that people have tried it, judged it and really thought a lot of it. We're really honored by that."
Dick Byne's family at Byne Blueberry Farms in Waynesboro was also honored in the 2014 contest, winning in the beverage category with its organic blueberry juice. His blueberry products also won three previous years in different categories. Byne says the most recent was just as important as the first.
"[The contest has] kept the quality up, so you know that if you've won something, you've beaten somebody who has had excellent success," Byne says. "I'm very proud of the times I've won, and I think it has helped propel me to the next level."
2014 Flavor of Georgia Prize Winners
2014 Grand Prize Winner: Georgia Gold Clothbound Cheddar Cheese by Nature's Harmony Farm, Elberton 2014
People's Choice Award: Raspberry Jalapeño Jam by Leoci's Fine Foods, Savannah
Adult Beverages Category: Richland Rum by Richland Distilling, Richland
Barbecue and Hot Sauce Category: Causey's Sweet'N Smoky BBQ Sauce by Causey Foods Inc., Smyrna
Beverage Category: Organic Blueberry Juice by Byne Blueberry Farms, Waynesboro
Confections Category: Peachy Keen Pecan Praline by Loose Sugar, Harrison
Dairy Category: Georgia Gold Clothbound Cheddar Cheese by Nature's Harmony Farm, Elberton
Jams and Jellies Category: Cinnamon Honey Spread by Weeks Honey Farm, Omega
Meat and Seafood Category: Vidalia Onion Sausage by Ogeechee Meat Market, Savannah
Miscellaneous Category: Southern Sriracha Boiled Peanut Rub by Hardy Peanuts Inc., Hawkinsville
Salsas, Chutneys and Condiments Category: Sweet Onion Confit by Preserving Place, Atlanta
Sauces and Marinades Category: GA Mustard Marinade by Q Sauce LLC, Dacula
Snack Foods Category: Georgia Blues Bar by M Chocolat, Alpharetta