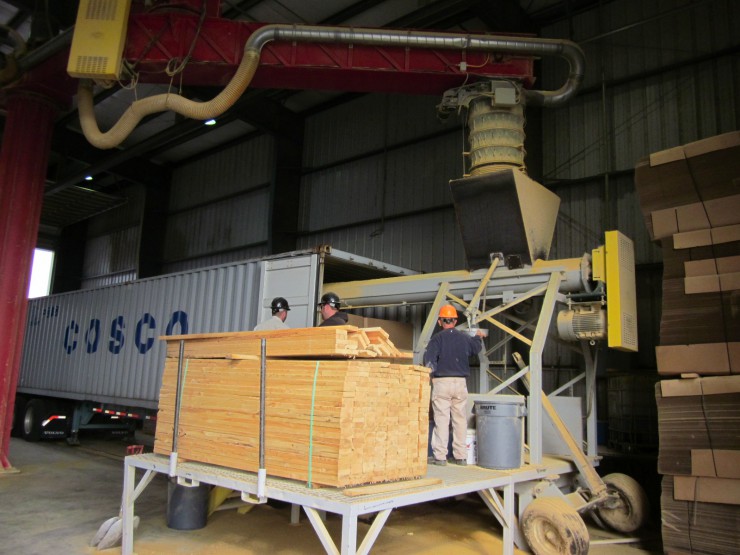 Tim Seifert believes U.S. farmers produce enough food to feed the world, it's just a matter of finding a way to get it there. Seifert is a third-generation farmer who grows 3,000 acres of soybeans and corn as a partner at RTS Farms in Auburn. He is a tour guide and trade emissary, hosting more than 200 international visitors at RTS Farms each year and joining Illinois trade missions abroad to further boost the state's agricultural exports.
In Illinois, 9.2 percent of the state's exports come from agriculture, totaling more than $6 billion in 2011. "We, in the U.S., are the most efficient farmers in the world, and the U.S. cannot consume the amount that the American farmer produces," says Seifert, who also maintains research plants for Monsanto and the University of Illinois and dedicates 5 acres for growing sweet corn that is turned over to the Auburn Food Pantry.
Getting more of the state's agriculture products into international markets is a cornerstone for Illinois' economic development efforts. The state's agriculture exports have increased 50 percent since 2009, and Illinois Governor Pat Quinn wants to double current export values by 2014.
According to the Illinois Department of Commerce and Economic Opportunity, over 600,000 jobs in the state are supported by exports. Illinois top export commodities include feed grains, soybeans, live animals and meat, wheat, and feeds and fodders.
Reaching Out to the World
Every year the Illinois Department of Agriculture (IDOA) hosts formal and informal international delegations, and sponsors three big industry tours – grain, pork and dairy. The department also takes part in multiple trade missions abroad in order to make connections with potential markets. These efforts generated more than $76 million in actual and projected export sales in 2011.
Jim Mackey is one of three people at the IDOA working to boost Illinois exports. One of the department's missions is making an impression on visitors about the quality and quantity of grain available in the state.
To get that message across, Mackey takes people out to the farms. "Seeing miles and miles of fields and seeing how grain is harvested and handled accomplishes that," he says.
RTS Farms, located about 10 miles south of the state capitol in Springfield, is a popular stop on the industry grain tour, which takes place during the fall harvest season.
On the farms, visitors get a chance to inspect the quality of the crops as well as see the process of growing and harvesting.
"They can see our technology and our all-GPS equipment," Seifert says. "They get to see an average or above-average farm in real-world scenarios. "This is not a greenhouse. We put (the crops) in with a planter, harvest it with a combine."
The potential buyers also get the opportunity to see quality in how transactions are processed, Mackey says. "One of the major advantages U.S. products have on the world stage, and why U.S. products command a premium, is when you buy something you get what you pay for."
Striking a Deal with Taiwan
Illinois isn't just waiting on the markets to come to it. Through transportation avenues that include rail, river and deep-water shipping, commodities from Illinois farms are landing far from home.
In late 2011, a 22-member delegation from the Taiwan Feed Industry Group signed commitments to import Illinois grain. The group agreed to purchase 303 million to 413 million bushes of U.S. corn, 43 to 59 million of those bushels will come from Illinois.
The deal could bring up to $393 million to Illinois corn growers. The delegation, which also included representatives from Taiwan's Vegetable Oil Manufacturers and Oilseed Processing Association, signed similar letters outlining its intent to purchase up to 118 million bushels of U.S. soybeans. Illinois' share of the transaction is around 14 million bushels, or $182 million worth, of soybeans.