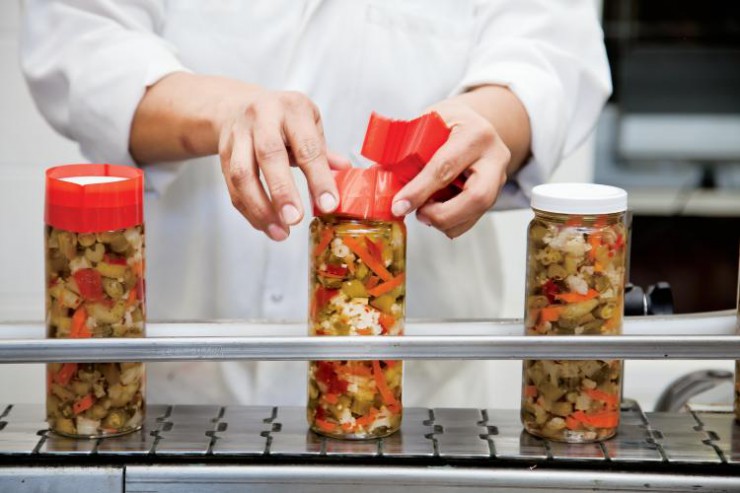 From baked goods and artisan cheeses to sauces and salsas, shelves in homes and grocery stores across the state boast food products processed in Illinois.
Food processing, Illinois' leading manufacturing activity, contributes more than $13 billion to the value of raw agricultural products. Illinois is home to more than 2,514 food manufacturing companies. While many of the foods processed in state are sold locally, much of it makes its way to other states and international markets. Illinois is the sixth-leading processed foods exporting state in the country, with annual exports of more than $2.7 billion.
Josh Harris is now in his 20th year as the president of Distinctive Foods LLC, a Wheeling-based baking company. Distinctive Foods has shipped its lines of specialty, value-added foods across the globe for 20 years, packaged under brand names including Butcher & Baker, Chicago Flats and Pie Piper.
"Our products are sold through every venue possible – club stores, retail grocers and exportation," Harris says. "We export primarily to Asia but also to 10 other countries including Mexico, Canada, Denmark, Japan, Taiwan and mainland China. "Chicago and Illinois, and the Midwest in general, are ideal locations for food processing because we have all the resources at our fingertips, from the raw products to the talent."
The Branded Program
Some companies expand to international markets with the help of the Illinois Department of Agriculture (IDOA) and the Food Export Association of the Midwest USA, a Chicago-based nonprofit organization whose mission is to promote the export of food and agricultural products from the Midwest.
"We work closely with the state departments of agriculture to provide activities and services to help the companies export their product overseas," says John Belmont, communications manager for the Food Export Association of the Midwest. Most notably, the two organizations work together on the Branded Program, a cost-share program that supports the promotion of branded and private label food in foreign markets.
Kathy Formella is the owner of E. Formella & Sons in Countryside. Her line of gourmet Italian specialty products including olives, pepper mixes and pasta, can be found across the U.S. and Canada. Succeeding in international markets is a feat she couldn't have imagined without the help of the IDOA and the Food Export Association.
"My first trade show was the National Restaurant Association trade show 10 years ago," Formella says. "It had a huge impact, and without that first trade show, I don't think I'd be here. I wouldn't have even tackled exporting without the Branded Program."
Employing the Future
The booming food processing industry isn't just contributing to the state's economy, it's also a leading employer in Illinois. More than 82,540 people are food processing employees.
Mike Vanee is the executive vice president of Vanee Foods Company, a Berkley company that has been in business for 62 years. With just over 250 employees, Vanee Foods Company ships its line of canned gravies, broths, sauces, and soups all over the state and internationally. And while some of the products find their way across the sea, their production creates jobs and a little closer to home.
"We hire local service companies to build our buildings, maintain our plants and test our products," Vanee says. "We make efforts to buy from local suppliers to reduce cost of incoming freight." While boosting and staying viable in an ever-changing economy are essential to these companies, the bigger goal for many of these companies is to cultivate the next generation of Illinois food processors.
"We are trying to be innovators with new products and packaging," Formella says. "We want to grow the business and hope to leave it to the next generation."