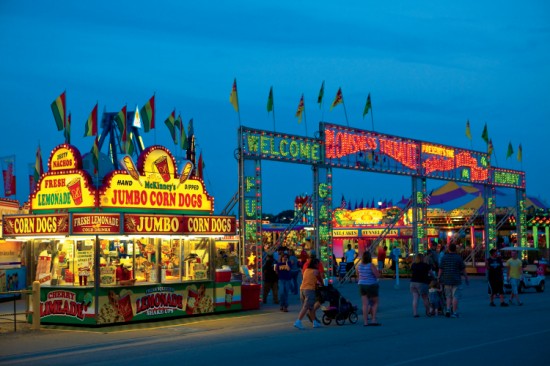 I've been attending the Illinois State Fair in Springfield since I started showing Shorthorn cattle as a young teen. It become a love affair at first site, having spent time working in the State Fair Press Office while in college and later covering everything that happened at the fair for a Springfield newspaper for 27 years straight. I now run the harness racing program and still get to enjoy the fair. Call me a fair junkie, but I don't think I could ever miss one.
Admittedly, a big part of that love affair has to do with the food. I used to write about the new foods at the fair (pork rib cocktail, which includes five dry-rubbed pork ribs in a margarita glass topped with vinegar-based coleslaw for $8, two scoops of a nitrogen-frozen ice cream that is as smooth as silk in your mouth for $4 and the pulled pork, brisket and mashed potato-laden meat parfait), but what brings me back each year are my favorites.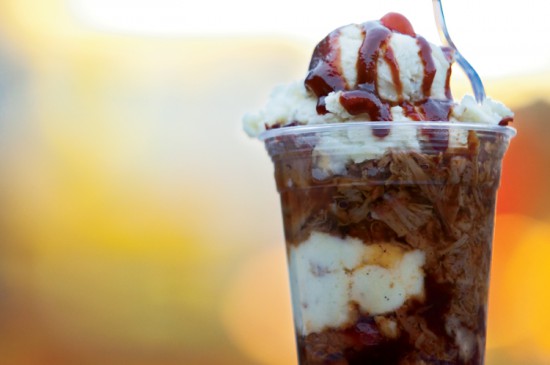 Topping my list is a stop at the Commodity Pavilion for a pork burger, grilled fresh by volunteers from Illinois Pork. During the 10-day fair, the group will sell more than 20,000 pounds of pork in the form of chops, burgers and a chop-on-a-stick.
The vast majority of the pork is farm-raised here in Illinois – pork loins are donated by local companies Cargill and Farmland. The pork is so popular that two years ago they put up a new building to prepare all of the sandwiches, fries and drinks offered. In fact, it takes 25 volunteers a shift (two shifts a day), along with another 8 to 10 manning the grills each shift, to serve fairgoers.
What sets this pork apart, and makes it so memorable each year, are the spices. The chop-on-a-stick is seasoned with Riley's All-Purpose seasoning, a company started by a Pittsfield, Illinois, hog farmer. The pork chops and pork burgers are seasoned with Custom BBQ Seasoning from Decatur, Illinois.
Occasionally, I will venture throughout the rest of the grounds, but my first stop – the Pork Patio.
Do you have a required first stop – or first bite – at your county fair or state fair?
Charlyn Fargo is an Illinois-based registered dietitian whose recipes, such as Glazed Pork Medallions With Asparagus, are featured on Farm Flavor by way of its sister site Illinois Partners.