Agritourism in Michigan is a growing segment of the state's $91.4 billion food and agriculture industry — tourists and locals alike come to experience one-of-a-kind cider mills, creameries, vineyards, farmers markets and, of course, pumpkin patches and Christmas tree farms.
Not only do the farmers involved in agritourism care for the land and grow a crop, raise animals or make a product, but they also invite the public to their farms and do much of their own marketing.
The more than 270 agritourism destinations across the state and Michigan's beautiful natural resources complement each other and draw tourists into the state, says Mike Beck, president and co-owner of Uncle John's Cider Mill in St. Johns.
"A lot of times, these people are experiencing everything at once with their trip up North, and it all works together," he says. "We all play off each other a little bit, and work as a group. In the fall, going to farms and cider mills is very popular. I'll be out in the parking lot, and I'll see license plates from Ontario, Illinois, Indiana and Ohio — there are people who come pretty far distances."
Michigan's apple growers, including farms like Uncle John's, bring in more than $700 million to the state annually, and the state is ranked No. 3 in the nation for apple production and No. 1 for cider mills.
Uncle John's, a fifth-generation family-owned farm, is one of many cider mills in Michigan, but it is also a fruit and vegetable farm offering apples, cherries, blueberries, asparagus, sweet corn, strawberries, pumpkins, gourds, squash and Christmas trees.
Beck says his parents, John and Carolyn Beck, began offering apple cider and doughnuts alongside the vegetables in the 1970s. Diversifying the farm has been the key to its lasting success.
"We do a lot of stuff here," Beck says. "We're one of the few that still has an orchard. We also have train and wagon rides, a corn maze, wine tastings, a gift shop, a bakery, cider, doughnuts, caramel apples and a nature trail."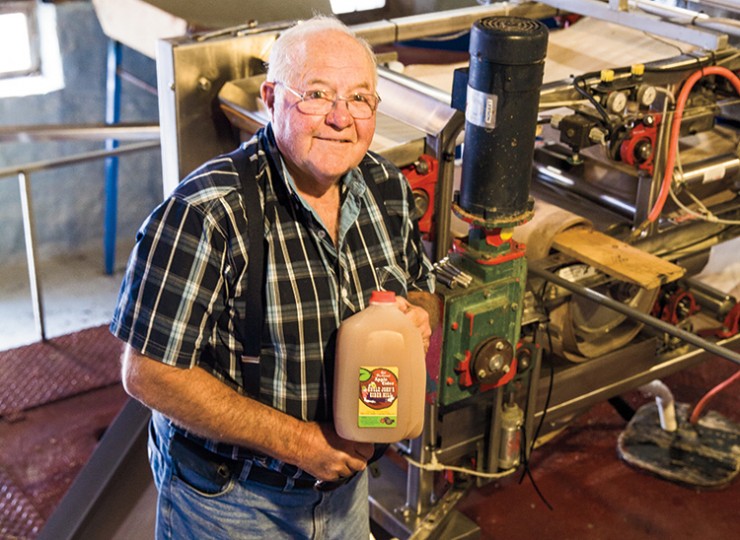 Similarly, the variety found at the Flint Farmers Market in Flint attracts a diverse group of locals and sometimes even brings in tourists, although the market doesn't particularly focus on being an agritourism destination, says manager Dick Ramsdell.
"We really do not market ourselves as a tourist destination — we are what we are," Ramsdell says. "But if people are looking for a nice market with an old market feel, they'll find it here. It's a place that welcomes everybody."
The Flint Farmers Market, which is open year-round and features vendors selling produce as well as wine, cheese, meat and bread is housed in a building that was constructed in the 1940s as a market giving it a vintage, authentic feel, Ramsdell says.
Ramsdell says it has the feel, smell and looks of what you would expect from an old market.
The market has become a gathering place, providing a venue for concerts and community events in a town that has been deeply affected by the recession and the crisis in the automotive industry.
"In a town like Flint that has had such an emotional 10 years, it's been great to have a market that has revitalized itself in that time," he says. "It's become a community center for everybody."
And when locals and tourists alike are looking for a place to enjoy fresh apple cider, take home locally grown vegetables, make their way through a corn maze or taste wine made from Michigan grapes, they can find what the state has to offer on MichiganFarmFun.com, a free resource offered by the Michigan Agri-tourism Association.