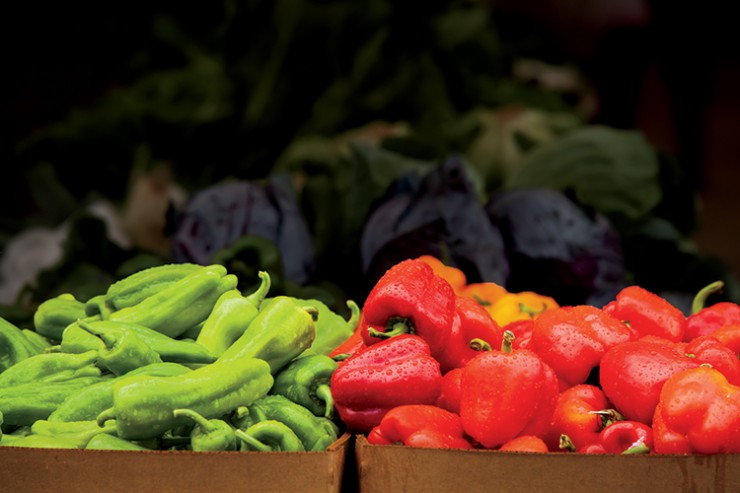 The days of not knowing where your food comes from are coming to an end as food hubs alleviate the quagmires of supply and demand, and connect farmers' produce with consumers' needs. Today's food hubs assist with aggregating, distributing, storing and marketing food products at centralized locations so farmers can sell in bulk to restaurants, schools, grocers and caterers – essentially any business seeking fresh, homegrown produce, as desired by customers.
As the food hub movement continues to take root nationwide, Michigan is leading by example and working to ensure the continued success of its many existing and emerging local food markets, as well as the small- and medium-sized farmers who make it all possible.
Robert Ruhlig of Ruhlig Farms LLC, which has been distributing food and plants to the Detroit area for four generations, remains an active participant in the Eastern Market food hub selling 30-plus different types of vegetables, from broccoli and peppers to squash and bok choy. Five days a week, the farm's trucks pull into market at 11:00 p.m. to set up produce pallets for customers.
While some of these customers buy on the spot, Ruhlig says that 50 to 70 percent of the produce is pre-sold, which makes production more consistent and manageable. Yet the biggest challenge still remains supply and demand.
"Why we've been successful doing what we do is because we are there five days a week," Ruhlig says. "You have to put your time in at the market to establish a consistent supply chain for the customers. It doesn't happen overnight. Sometimes farmers might get discouraged if it doesn't take off right away."
But Ruhlig can attest that once trust is built, food hubs provide added value for the farmer.
In mid-Michigan, on the east side of Lansing, the Allen Neighborhood Center draws 16,000-plus community visitors annually to its award-winning Allen Street Farmers Market and recently opened the first non-profit food hub in the region, Allen Market Place (AMP). Further demonstrating the innovation behind food hubs, this wholesale market is open 24/7 online. Buyers place pre-orders, and then farmers deliver to the buyers' tables at AMP on Wednesdays year-round.
"This exchange is meant to be a dynamic time for conversations to ensure that growers and buyers can better communicate future needs," says Lynne Brown, a director of AMP.
Brown works closely with each farmer to identify the best way to sell the products and address any obstacles that might arise. She encourages hesitant farmers who are looking to increase sales to register with AMP and post some products on the website to see if the program is a good fit.
According to Michigan State University's (MSU) 2013 National Food Hub Survey, the top three challenges for food hubs remain managing growth, balancing supply and demand, and access to capital.
However, food hubs are an extension of the local food movement, according to Rich Pirog, senior associate director of MSU's Center for Regional Food Systems. Pirog also leads the new Michigan Food Hub Learning and Innovation Network.
Pirog says that, contrary to stereotypes, about two-thirds of food hubs surveyed don't rely heavily on grant funding. Most are sustainable, and those that have been in business for longer periods of time are quite profitable. They also provide economic benefits such as employment opportunities for the region.
For communities and farmers interested in getting started, Pirog recommends learning as much as possible from other food hubs. The benefits are immeasurable at many levels – truly a win-win for everyone.