Cotton's reign as Mississippi's supreme cash crop ended more than five years ago, when soaring grain prices enticed farmers to clear the way for two other crops – soybeans and corn. Since 2007, many farmers have either abandoned or planted significantly fewer acres of the white-blooming plant that dominated the landscape for more than 150 years, while corn yields have increased faster than any other crop in the state. Experts anticipate another tough year ahead for cotton, as many farmers continue to replace the crop with corn and soybeans, which are cheaper to grow and, thanks to favorable commodity prices, more profitable for many, says Darrin Dodds, cotton specialist at the Mississippi State University Extension Service. "Historically, cotton has always kind of paid the bills," Dodds says. "Cotton has always been a crop you could make money on when grain prices weren't as good as they are today. You can still make money on cotton, but the profit margin is not as wide." In 2007, Mississippi farmers cut cotton production nearly in half, planting about 660,000 acres of the crop, compared with 1.2 million acres in 2006. Meanwhile, corn acreage jumped from 340,000 acres in 2006 to 930,000 in 2007, according to the U.S. Department of Agriculture. Commodity markets drove much of the shift as grain prices rose. But pest and weed management pressure among cotton crops, particularly in the Delta region, also played a role, Dodds says.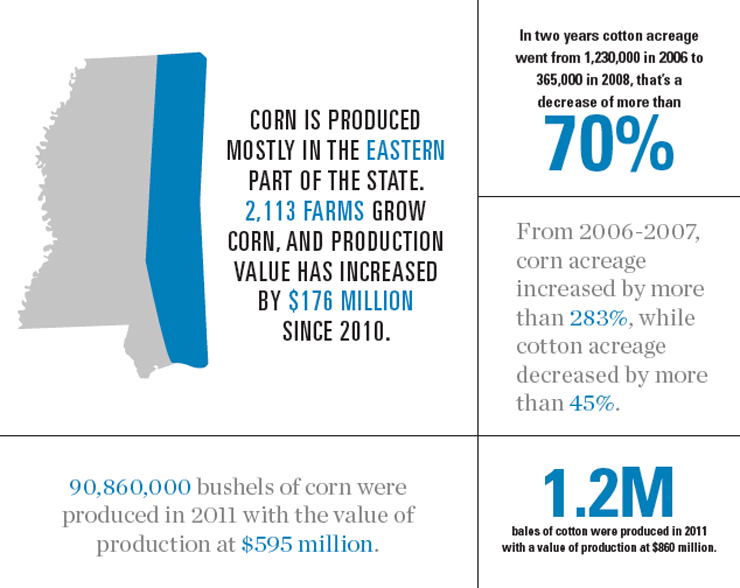 There's Still Business in Cotton Among those still devoting acres to cotton is 28-year-old farmer Tyler Huerkamp of Macon. Huerkamp, who graduated from Mississippi State University in 2006 with a bachelor's degree in agricultural economics, farms 2,250 acres in Noxubee County with his father. Together, they maintain a 50-50 cotton-and-corn rotation – a method Huerkamp says his father has used since the late 1980s to help improve cotton yields. "Corn leaves behind crop residue after harvest that helps combat erosion and builds organic matter in the soil," Huerkamp says. Although cotton production has dropped statewide, Huerkamp says a better consistency, higher yielding cotton crop has pushed farmers to increase acreage in east central Mississippi and west central Alabama in recent years. After years of discussion and planning, Huerkamp and 24 other area farmers, including his father, formed the Bogue Chitto Gin, Inc. and opened a new $7 million cotton gin in Noxubee County in October 2012. The state-of-the-art facility can gin 60 bales of cotton per hour, and investors expect the new gin to create three to five full-time jobs and about 20 seasonal jobs.
Before the new facility opened, Huerkamp says the closest operating gin was 65 miles from his farm. High transportation costs ate away at potential profits for him and other farmers who faced similar costly commutes. The recent rise in corn prices prompted Huerkamp and his father to invest more time and money in their cornfields than they have in the past. "If we didn't just build a gin, I would say we might have planted more corn," Huerkamp says. "But we're not going to have these (grain) prices forever. What goes up must come down."
Combining Crops Corn acreage statewide has hovered near 900,000 since its initial jump in 2007, says Erick Larson, corn specialist with the Mississippi State University Extension Service. "Mississippi farmers typically plant corn in late March to early April and harvest it from mid-August to mid-September," Larson says. Cotton's growing season begins shortly after that, with farmers typically planting the crop in mid-April and harvesting it from mid- to late September into October and sometimes November depending on the year, Dodds says. Corn improves soil quality, is easier and cheaper to grow than cotton and soybeans, but is also compatible with those crops, Larson says. It can also reduce reliance on some of the specialty equipment and infrastructure cotton requires. Growers can use a combine to harvest the two grains by switching out a removable head designed for each crop. Cotton growers must use a separate machine, the cotton picker, for harvest.
Along with high commodity prices, ethanol use has also greatly enhanced corn's marketing potential in recent years, Dodds says. After its stark decline in 2007, cotton acreage continued to plummet, hitting 305,000 in 2009. The crop rebounded partially in 2011, when global demand pushed cotton prices to record highs, Dodds says. Mississippi farmers planted 630,000 acres that year, but acreage fell to 470,000 in 2012, and Dodds says he "would not be shocked" to see acreage decline 30-40 percent in 2013. Soybean acreage has also risen. In 2011, Mississippi farmers planted approximately 1.8 million acres of soybeans and harvested nearly 73 million bushels. That totaled $860 million in production value, making it the state's top row crop, according to the MSU Extension Service. "I don't know that we'll ever get back to the (cotton) acreage we once had," Dodds says. "But I don't ever see it totally going away or becoming an afterthought."