What do shiitake mushrooms, muscadine grapes and bonsai trees have in common? All three are part of Mississippi's growing specialty crop industry. While row crops like soybeans and cotton are the mainstay of agricultural production, state farmers continue to explore ways to create new markets and supplement their income. Specialty crops provide that opportunity.
Buy the Bunch There are more than 40 fruits and vegetables grown in Mississippi, many of which are produced by farmers on small acreages and sold across the state at farmers markets. Sweet potatoes, turnips, okra, squash and onions are some of those vegetables. One of the fruits is muscadine grapes. These true native Southern fruits are popular with growers because of their taste, their natural adaptability and their resistance to pests. Plus, they grow well in the heat and humidity and need fewer chilling hours than better-known varieties, making them an ideal specialty crop for Mississippi. At the Mississippi State University Beaumont Horticulture Unit, farmers can tour a muscadine vineyard and learn how to grow these versatile grapes. In addition to the fresh grape crop, muscadines are a popular choice for making wine, juice and jellies. So farmers have value-added opportunities when growing this crop. Nearly 400 acres of muscadine grapes are grown on trellises across Mississippi, a number that is sure to increase with the growing popularity of the grape and its nutritional benefits.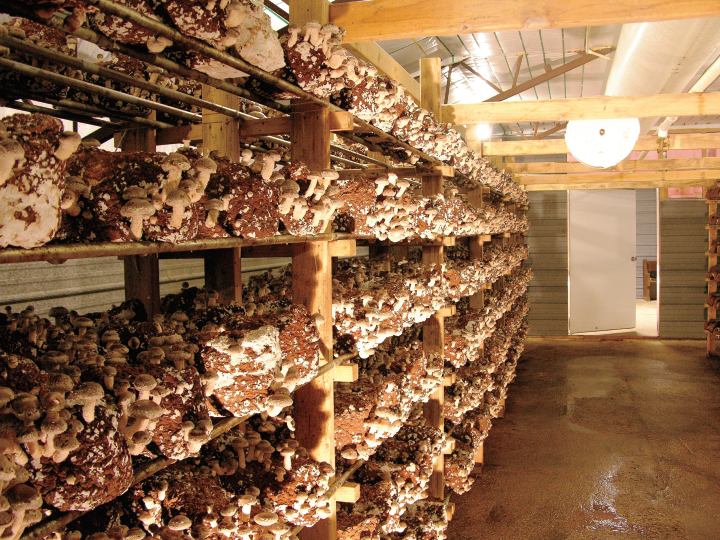 Harvesting Mushrooms Shiitake mushrooms are one of those specialty crops that require very little acreage. In fact, they require no "land" at all. That's because shiitake mushrooms require nothing more than a humidity-controlled room and a growing medium. Wanda McNerney Millis, of the Mississippi Natural Products Association in Newhebron, explains how the rural farmers' cooperative in south-central Mississippi promotes this crop and supports its growth. "We began this initiative in 2002 as a way to develop an alternative crop that could be grown year round," says Millis. "At the co-op, we manufacture an artificial log out of sawdust and nutrients and inoculate it with shiitake spores. It incubates for 10 weeks in our facility. At the end of that time, farmers purchase the logs and take them to their own grow rooms to finish and harvest the mushrooms." Sound simple? Not so, says Millis. "We have a lot of people who call us wanting to grow mushrooms and thinking that it will be a quick and easy way to supplement their income." But, she says, it really is a seven-day-a-week job because during the three-week harvest cycle, all mushrooms must be checked every day so they are cut at the correct time. Although it is more labor intensive than some think, the fact that the co-op has invested in thespecialized facilities makes growing mushrooms much more feasible and less costly for Mississippi farmers. Millis says the co-op produces 700 pounds of shiitake mushrooms a week for contract growers. They also sell logs to a dozen small producers who market their mushrooms at local farmers markets and sell them for about $16 per pound.
Going Bonsai Brussel Martin's specialty crop business started in his own backyard 50 years ago. His father had traveled to California on business and returned home with several bonsai trees. "I had those trees for 10 years, and I still have the pot," says Martin. That was the beginning of his passion for bonsai, which has turned into a booming business in Olive Branch. According to Martin, there is no other business in the United States quite like Brussel's Bonsai. "We are 20 times bigger than anyone else, and at any time, we have 100,000 to 150,000 trees ready to sell." He explains that many of those trees get their start somewhere else and are shipped to Brussel's. "We have growers across the country who grow plants for us under our guidance and specifications. We're like an assembly plant here, where we care for the plants and create the finished product." That requires a staff that knows how to employ the labor-intensive bonsai technique of trimming, wiring and repotting. At Brussel's, they create hardy bonsai, from maple trees, azaleas, junipers and other plants, as well as indoor bonsai, which are more typically tropical plants. It can take three to four years to develop a nice bonsai plant, but all that work pays off. "We have established a strong reputation for producing quality bonsai and have a thriving business with a bright future." Brussel's Bonsai also impacts the local economy, employing 35 full-time workers and keeping the local Fed Ex and UPS facilities busy shipping plants into Olive Branch and then out again across the country. Mississippi is a great home for the business, says Martin, because of the climate. "We have a long growing season, but we also have a winter. That natural cycle is necessary for our hardy bonsai that have to go through the seasons."