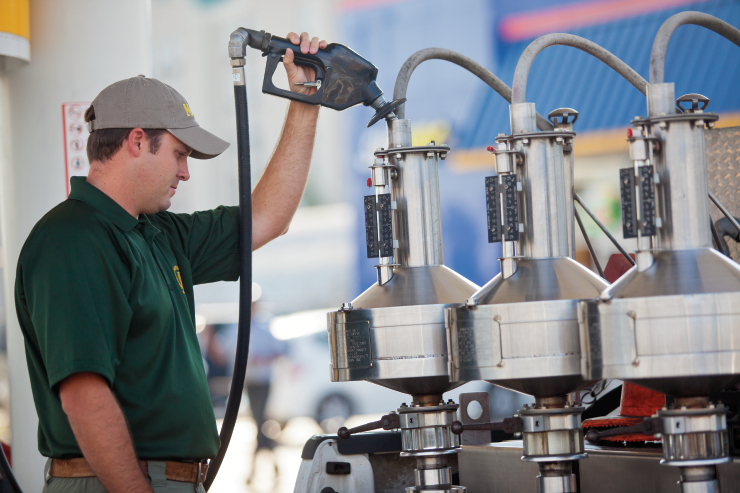 Most people think of farm fields and fertilizer when they think of the Mississippi Department of Agriculture and Commerce (MDAC). Yet MDAC provides consumer protection services that benefit all residents of the state. These services make sure buyers get their money's worth – in the grocery store, at the gas pump, at the meat market and elsewhere. With more than 80 staffers across Mississippi, MDAC's Bureau of Regulatory Services oversees specific types of businesses. The bureau has four main divisions: Consumer Protection, Meat Inspection, Petroleum Products Inspection, and Weights and Measures. "All of our divisions ensure that people are getting the quality and quantity of product that they pay for," says Julie McLemore, director of the Bureau of Regulatory Services. "It also helps other businesses in the sense that everyone has an even, equal and fair playing field. And nobody is allowed to break the rules of the state." Consumer Protection Division The Consumer Protection Division licenses retail food establishments, including grocery stores, and conducts sanitation inspections in those establishments. "Before entering a retail food establishment, a consumer should be able to see the result of the inspector's last visit," says McLemore. She recommends that consumers look for a color-coded placard at the store's entrance. A green placard indicates that the store has passed the inspection without any critical violations. A yellow placard indicates that the establishment had a critical violation at the time of inspection and a follow-up inspection will take place (usually within 10 days) to ensure that the violation has been corrected. A red placard means that the store does not meet sanitation requirements as required by law. The division also ensures compliance with labeling laws, like the Country of Origin Labeling Law, or COOL. Under this law, all fresh and frozen fruits and vegetables, meat and muscle cuts of meat, poultry, fish, peanuts and ginseng sold at Mississippi retail food establishments must be labeled with the country of origin.
Petroleum Products Inspection Division Drivers demand every drop when it comes to their gas tanks and the Petroleum Products Inspection Division ensures we're all getting a fair value at the pump. "The most common customer complaint is to report the price starting to roll before they start pumping gas, called jumping. An inspector will then make an inspection relevant to the complaint," says McLemore. Inspectors take samples from gasoline pumps annually and without warning to guarantee that each gallon meets state specifications for quantity and quality. "If there is a quality violation, the pump will be locked until new fuel is put into the tank. If there is an equipment violation, the station will be given 48 hours to correct it. If not corrected, the department will take proper administrative action in the form of stop sale or fines," says McLemore. A sticker on each pump proves that it has been inspected and includes a telephone number to report any issues on site. Weights and Measures Division The Weights and Measures Division tests scales and measurement equipment for accuracy, such as livestock scales, scrap yard scales, rail scales and smaller capacity scales at feed stores and pawn shops. If a scale is out of tolerance, the inspector will "red tag" the scale to be repaired or adjusted by a licensed scale repair person before it can be used again in commerce. This division also checks the accuracy of grain moisture meters at grain elevators and feed mills. "We bring 25-, 50-, 500- and 1,000-pound weights to measure on the scales and ensure the calibration accuracy. So when people use scales at Home Depot, Lowe's, co-ops or auto repair shops, they know they're getting the amount they pay for," says Weights and Measures Director Connie Braswell.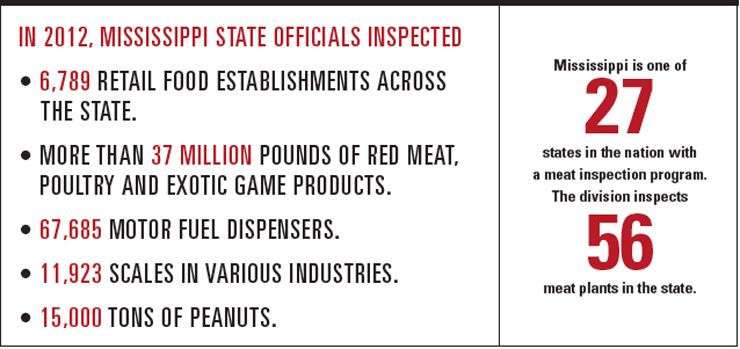 Meat Inspection Division Mississippi is one of 27 states with a meat inspection program. The division inspects 56 meat plants in the state. "By having our own state inspection program, the Mississippi legislature promotes small business and its asset to have state inspection for small meat plants," says Meat Inspection Director Dr. Richard Benton. In order for meat to be sold in commerce it has to be inspected at either the state or federal level. The division inspects primarily beef and hogs, but also sheep, goats, rabbits and quail. An inspector performs an antemortem inspection (before slaughter) and postmortem to make sure the animal is healthy before slaughter, slaughtered under sanitary conditions, and properly preserved and labeled. After an inspection, a mark confirming inspection is placed either on the animal itself or the packaging. For more information on MDAC's Bureau of Regulatory Services visit www.mdac.ms.gov.