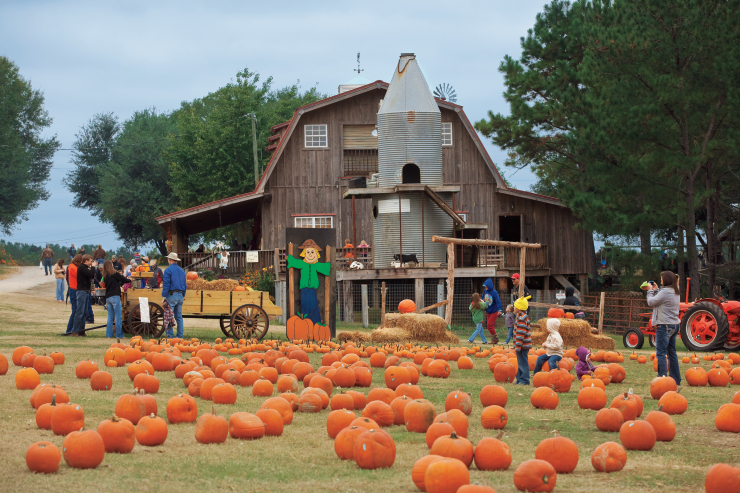 The Harris family ranch attracts 20,000 people every October to a setting so remote that the nearby town installed its one and only traffic light just in the last decade. Most visitors travel at least an hour to take in the excitement at BlueJack Ridge Ranch, where kids ride ponies, hunt for gold rocks and "rope" calves. The cattle operation located in Poplarville in southeast Mississippi resembles a western town, complete with saloon, general store and jail. It provides an outdoor experience designed to mimic farm and ranch activities in fun and interactive ways for kids, ages 3 to 12. "Every parent wants to expose their kids to something natural and something real that the agritourism industry has to offer – that good, clean, wholesome, hands-on learning about where our food comes from, about animals or spending the day outside in the sunshine," says Kristi Harris, who owns the kids ranch with husband Darrin. She also runs an agritourism consulting business. "To me, agritourism is only on the peak of what it can be in the next 20 or 30 years. We're just scratching the surface," she says.
The Business of Agritourism Agritourism, generally defined as entertainment on a working farm, is not only one of the fastest growing sectors in Mississippi agriculture and tourism, but nationwide as well. The agritourism industry has increased 30 percent compared to other tourism sectors in the United States, according to Mississippi State University. Mississippi landowners today offer experiences that run the gamut from day trip visits to a pumpkin patch to overnight lodging at a farmhouse bed-and-breakfast. To promote the options, the Mississippi Development Authority's Tourism Division founded the Mississippi Agritourism Trail. By fall 2012, the trail mapped 78 locations throughout the state that offer on-farm entertainment, says Michael Jones with the tourism division of the Mississippi Development Authority. The trail invites travelers to pick their way through Mississippi's autumn corn mazes and pumpkin patches and enjoy the open air at U-pick gardens, wineries, orchards, petting zoos and farmers markets. There are also festivals celebrating peanuts, tomatoes, sweet potatoes, watermelon and catfish. Visitors can also tour aquaculture farms, buy a fresh Christmas tree or visit the state's farm history museums. Mississippi's Agritourism Trail includes a diverse mix of farms, historic plantations, country stores and museums that have evolved from residents' relationships with the Mississippi soil.
Mitchell Farms, a traditional row-crop farm founded in 1955, added agritourism in 2006 to provide the income that keeps mom employed on the farm, too. Jo Lynn Mitchell married into the farming operation of her husband, Don, and his parents Dennis and Nelda Spell Mitchell. The family grows peaches, pumpkins, blueberries, peanuts, corn, wheat and soybeans on 1,500 acres. Today, thousands of people venture annually to their farmstead to enjoy a corn maze, pumpkin patch, petting zoo, train rides, farm-themed playground, fresh produce and farm-grown peanuts. The property includes three log cabins, including one dating from the 1800s. The farm also host weddings and corporate events in their banquet barn. About 5,000 people attend the Mississippi Peanut Festival on the Mitchells' property the first Saturday in October. Agritourism has increased their farm revenue by 30 percent, which keeps Jo Lynn Mitchell on the farm and employs up to 20 people seasonally at a location 60 miles south of Jackson in Collins. "It just brings a lot of joy to have children and families coming out here," she says. "We get a lot of positive response by email or on our Facebook page on the hospitality we show. I want people leaving our farm feeling like they got more than they paid for."
Follow the Signs In summer 2012, the farm became the first to purchase a new, state-supported agritourism sign. The Mississippi Department of Transportation launched the sign program, similar to tourism-oriented directional signs, says Wes Dean, assistant chief engineer with the department. The brown-and-white signs direct customers off highways to farms with seasonal and year-round attractions. Farms pay an initial fee of $225 and then $100 annually to maintain the signs. "More signs may pop up since passage of a state Senate bill that provides limited liability to people engaged in such activities. This new law gives landowners added liability protection, as long as they make sensible efforts to make their property secure and alert visitors to any recognized hazards," says Donna West, division director in market development with the Mississippi Department of Agriculture and Commerce. To qualify, landowners must register their agritourism venues with the department. "We're working hard to help agritourism grow while helping them to protect themselves," West says.
In fact, even current venues may grow. Both Mitchell Farms and BlueJack Ridge aspire to add more year-round attractions. For Mitchell Farms that may include more weddings, corporate events and family reunions. BlueJack Ridge is considering adding opportunities to bond with nature on their 400 acres, such as camping, hunting, trail walking and fishing. "When you're living in the city, you often don't have a place in the country to go to," Harris says. "We advertise ourselves as 'Your place in the country.'"