Sugar beets are a sweet crop for Nebraska's Panhandle farmers, contributing more than $165 million to the local economy.
But it is also a sweet crop for Nebraska consumers, literally, because the sugar beets western Nebraska farmers grow can become the granulated sugar, powered sugar and brown sugar consumers use in baking, or the sugar that sweetens candy bars and a vast array of other goodies.
Approximately 300 western Nebraska farmers grow 1.3 million tons of sugar beets a year on 50,000 acres, with an end product equal to about 4.5 million hundred-pound bags of crystallized sugar. This sugar is packaged and sold under 35 different labels, including Great Western (GW), Roundy's, Surfine and Walmart's Great Value brand.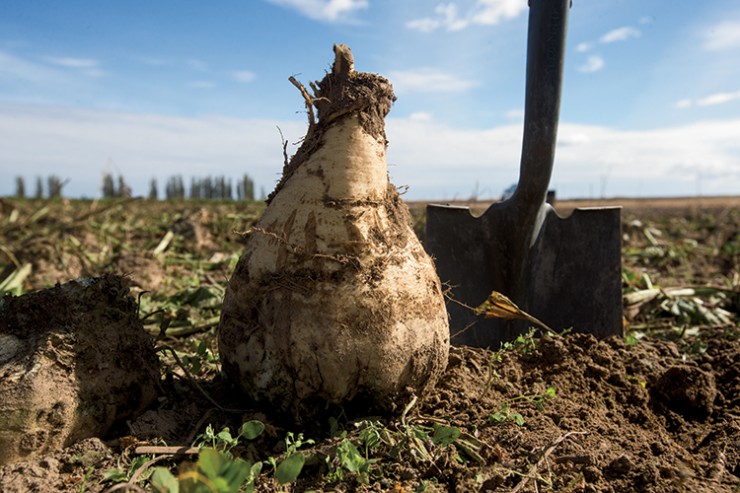 Not only are sugar beets grown in the Panhandle of Nebraska, they also are processed there. In 2002, farmers joined forces and formed the Western Sugar Cooperative (WSC), purchasing five midwestern processing plants, including one in Scottsbluff. Across a four-state region, WSC has approximately 1,100 farmers whose production makes up about 10 percent of the nation's sugar beet market. The United States produces 70 percent of the nation's sugar consumption, and about 55 percent of that is derived from sugar beets.
"We are a cooperative, so we are grower-owned," says Jerry Darnell, ag manager for Western Sugar in Nebraska and Colorado. "This creates the opportunity for the farmer to raise the crop, put it through the mill and then it goes to grocery store shelves, so the farmer has a stake through the process."
For Scottsbluff native Jim Darnell – Jerry's father – raising sugar beets is in his genes. Jim is a third-generation sugar beet farmer, whose grandfather hand-dug sugar beets.
"My grandfather let me pull my first beets with him," Jim says. "At that time, they were harvesting one row at a time, 22 inches wide. Now we harvest six rows, 30 inches wide at a pass. It's changed from the trucks I drove that held six or seven tons to trucks that now haul 30 tons."
The beets are cleaned and pass through a variety of processes in order to get to the granulated state as the bagged sugar with which most consumers are familiar. The beets are generally about 75 percent water, 20 percent sugar and 5 percent pulp. The pulp and molasses left over from processing aren't wasted; they are sold as feed. Even the green top that is cut when the beets are pulled out of the ground is used as fertilizer.
What is the difference between sugar refined from beets and sugar refined from cane? None, says Jerry.
"Sugar is sugar," he says, it all comes from sucrose.
Sugar beet production has greatly improved over the years, with better seed that is more resistant to pests and disease. This creates a better quality and higher yielding crop, says Jim, who utilizes 750 acres of his 4,000-acre farm for sugar beets. This is better for consumers, but also for the economy of western Nebraska.
"It makes us feel good as growers to know we are getting treated fairly," Jim says, noting that at the time the co-op was formed in 2002, it was doubtful the state's sugar beet industry would survive. "It was a very good time to purchase, and we have had great leadership. It's good to be in a strong position now."
Because it is grower-owned, Nebraskans can feel good about supporting this aspect of the state's economy,  Jerry says. And it's easy to know if the sugar they are buying is local. Simply check the label, and if there is an "F" in the code, it came from the Scottsbluff factory.
More Sugar Beet Harvest Photos