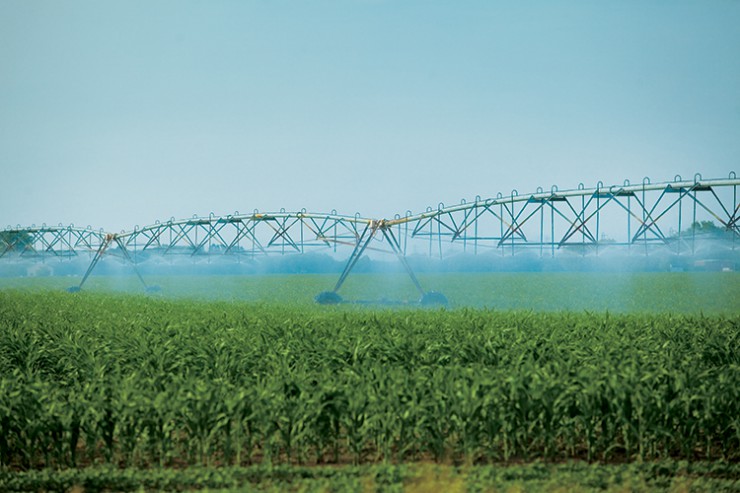 If you ask Ted Tietjen the most important aspect of irrigating his farm fields, he will easily tell you it is planning.
Whether it is planning which crops to use for the coming growing season, or planning how to conserve and manage water over the next decade, planning enables him and other Nebraska farmers to put food on Nebraskans' tables while being the best stewards of the land.
"Our ultimate goal is watershed management," says Tietjen, who has a farming partnership near the western Nebraska community of Grant, and who is also the project coordinator for the Nebraska Water Balance Alliance. Watershed management means looking at all the water resources in an area that drain into a single larger body of water, from rivers, to streams to groundwater.
"Watershed management helps ensure healthy water quality and quantity. Agriculture and everyone who uses water benefits from this," Tietjen says.
Irrigation is a crucial part of farming around the world and in Nebraska, where half of the crop acres are irrigated from surface water such as rivers, streams and lakes, or from underground sources in the High Plains Aquifer. Nebraska's innovations in irrigation technology have focused on ways to help farmers manage water use more effectively for long-term sustainability, which is important to all Nebraskans.
The Nebraska Water Balance Alliance is completing its second year working with crop farmers on projects that directly impact water usage on their farming operations. Last year, the group worked with experts at the University of Nebraska – Lincoln to study the effects of evapo-transpiration (ET) gauges.
These gauges measure the water that a crop uses by marking evaporation and transpiration (water given off by the crop through its leaves) rates. The goal, Tietjen says, is to better understand how a crop uses water throughout its growth cycle.
"If we measure what times during the growing cycle that crop requires more water, we can irrigate specifically and effectively and cut down on the amount of water we use and the amount of runoff we have," he says.
Nebraska farmers are also utilizing center-pivot irrigation systems, which allow for precise water application. Tietjen says pivots ensure uniform coverage of crops, which allows for less runoff from fields and less energy to be used by pumps.
However, soil in a field is generally not consistent throughout due to natural variations in topography. Through research, innovations such as Variable Rate Irrigation (VRI) have been developed to enable a pivot system to apply varying levels of water across a field, if needed.
Farmers also use soil probes that are calibrated to measure the water capacity in the top three feet of soil in a field. This data, Tietjen says, tells farmers when the soil is dry and irrigation water is needed.
"This type of technology is very important in helping to prevent over-watering, which would deprive the crop of oxygen," Tietjen says. "It's all a very delicate balancing game."
Advances in technology make it possible for farmers to access information from these probes and pivots via cell phone for efficient management. Farmers also look to the crop itself to improve irrigation water application management.
Tietjen says crop residue (leaves, stalks, seed pods) can be managed in such a way as to help conserve water. Studies have shown that leaving 50 percent of corn stalks on a cornfield is beneficial. Lying on the ground, stalks help reduce evaporation loss to a minimum of two inches, which stays in the soil until the next cropping season, he says. This protective ground cover also reduces runoff problems and keeps the ground cooler, which also aids in keeping evaporation to a minimum.
"The land is changing," Tietjen says, "and the technologies are getting better, so we have a better chance at improving real-time water measurements – being able to know on a daily basis how much water is being pumped into our fields. This water balance improves our watersheds and benefits every Nebraskan."
Nebraska is home to several major irrigation equipment companies, and that fact helps make the state a leader in crop water management research. Companies include Valley Irrigation, T-L Irrigation Company, Lindsay Corporation and Reinke Manufacturing. These companies participate in cooperative research and development activities with universities and research programs to help bring new technology and research to farmers.
"Our engineers and agronomists engage in research to learn ways to apply that knowledge to improve our existing products, create new products and advance precision irrigation," says Craig Malsam, vice president of global engineering and strategic technology development at Valley Irrigation. "Growing more food with less water is critical for agriculture. Improving how water is applied to crops by increasing precision irrigation is essential for meeting the changing needs of the global population."