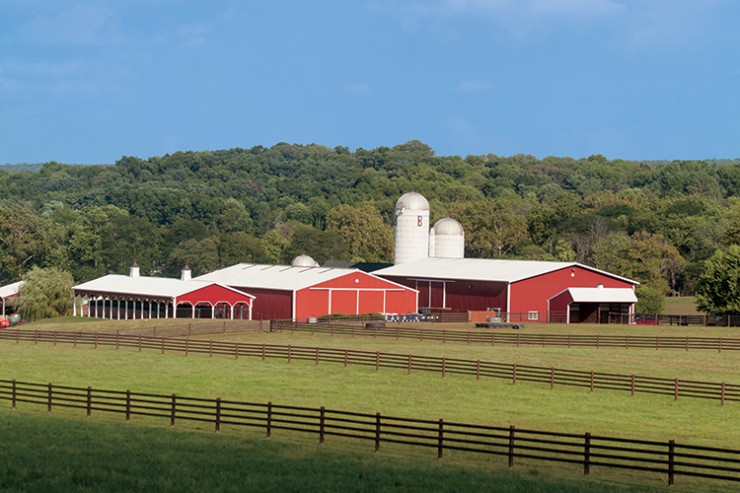 1. Fruits and vegetables – Known as the Garden State for good reason, New Jersey producers grow a range of vegetables that are sold fresh, frozen and dried. Fruits and vegetables earned a combined $462.9 million in cash receipts in 2013.
2. Greenhouse and nursery – Greenhouse and nursery products from New Jersey earned $444.76 million in cash receipts in 2012. Flowers, trees, shrubs and sod are grown for landscaping and ornamental purposes.
3. Blueberries – Blueberries grown and processed in New Jersey are distributed to food processing companies, restaurants and retailers nationwide. This commodity brought in $56.8 million in cash receipts in 2013.
4. Corn – Corn generated $56.21 million in cash receipts in 2012 for the state's economy. New Jersey farmers produced enough corn for 422.5 million boxes of corn flakes in 2013.
5. Soybeans – Approximately 3.39 million bushels of soybeans were produced for biodiesel, plastics, ink, cosmetics and more. The 2012 New Jersey soybean crop brought in $44.83 million for the state's economy.
6. Tomatoes – New Jersey is the No. 7 tomato producing state in the U.S., with a value of $30.9 million for tomatoes sold fresh or processed in 2013. The Ramapo variety was named for a Native American tribe in northern New Jersey.
7. Green peppers – Ranking No. 4 for bell pepper production nationwide, New Jersey green peppers were valued at $27.6 million in 2013. Fresh peppers make a great healthy snack or garnish.
8. Peaches – New Jersey ranks fourth in the nation in peach production. With 36 million pounds grown throughout the state in 2013, this fruit crop's production value was $27.2 million.
9. Cranberries – New Jersey cranberry production was 54.2 million pounds in 2013 with a value of $20.3 million. Ocean Spray purchases 95 percent of the state's cranberry crop, according to the New Jersey Cranberry Association.
10. Apples – New Jersey apples are sold to both fresh markets and food processing companies. Apples are produced in 13 counties throughout the state and were valued at $12.8 million in 2013.