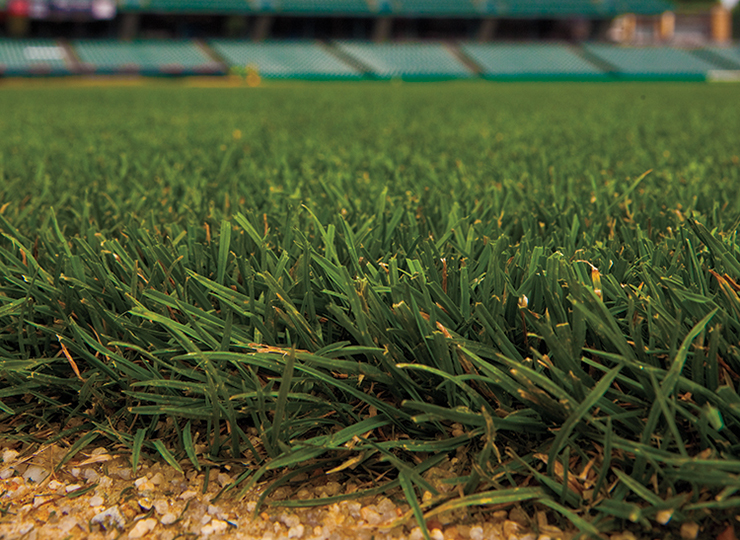 Green is the color of growth and prosperity. In New Jersey, fields of green sod represent just that.
According to the 2007 Census of Agriculture, New Jersey's sod industry accounted for 9,425 acres on 40 farms with receipts of $38 million.
The turfgrass industry has an annual economic impact that provides 53,588 jobs. In addition to the immense direct impact, turf growers and service providers employ laborers, pay taxes and spend money on expenses such as seed, advertising, fertilizer and equipment.
Turf also benefits New Jersey environmentally and aesthetically. Many homeowners are opting to install turf lawns to enhance their property. Private property accounts for 76 percent of total turfgrass acreage.
"The benefits include the removal of pollinates from water and air, it cools the ground surface better than artificial turf or bare soil, and stabilizes soils," Allen Carter of Tuckahoe Turf Farms says, "and for some reason people are happier when they have a nice green lawn at home."
Turf is often the focal point during sporting events such as golf tournaments or football games. Tuckahoe Turf Farms supplies notable clients across the Northeast, including professional sports teams such as the Red Sox, Packers, Phillies, Eagles, Ravens, Steelers, Pirates, Nationals and Indians.
"Many of our clientele demand nothing but the best as our turf winds up on television many nights during the week," Carter says. "Those high-profile clients keep us on the cutting edge of seed selection and production. In turn, our landscapers, homeowners and municipal clients benefit."
Tuckahoe Turf Farms, despite the recent economic downturn, has modernized its process with the use of automated harvesters in order to increase the quality of their product.
"Another advancement we are testing now is a new type of turf," Carter says. "We just started harvesting this and only have a limited supply of TTF's Enviro Turf, but this turf will need about a third of the fertilizer, water and mowing compared to the other two types, Bluegrass and Fescue that we grow."
Consumers have responded positively to this innovation because it reduces the amount of time and money devoted to maintenance.