With more than 100 varieties of fruits and vegetables grown in New Jersey, the diversity of agricultural production creates a natural connection with another industry important for the state – food processing. The food processing industry thrives in New Jersey for multiple reasons, including the diversity of products grown there and the state's geographic location.
Many of the fruits and vegetables grown by New Jersey farmers are the same products that food processing companies typically seek. The state's food processing industry also brings agricultural products from nearby states to New Jersey for processing, according to the New Jersey Food Processors Association. The association's member companies represent all facets of the food processing industry, including meat and poultry, seafood, dairy products, specialty foods, fruits and vegetables, and cereals and grain products.
Al Murray, Assistant Secretary of the New Jersey Department of Agriculture, says the state boasts several advantages as a site for food processors.
"First, the state's geographical location situates us in a way where our products are within a day's drive of over 33 percent of the U.S. population," he says. "That combined with our extensive transportation system, and one of the world's largest ports, makes New Jersey very attractive to businesses interested in food processing."
Seabrook Farms processes and packages a number of agricultural products, including green beans, corn, cauliflower and approximately 25 percent of all spinach in the country, working with nearly 20 growers in the region.
"We pack, process and freeze around 150 million pounds of frozen vegetables a year and transport them to supermarkets all around the world," says Brian Seabrook, sales director for Seabrook Brothers and Sons, Inc. "We've been in New Jersey since the mid-1900s and it's worked out great. We're close to a huge population and people live close to where food is consumed."
Comarco Products, Inc., processes nearly 6.5 million pounds of eggplant each year and also other Jersey Fresh vegetables like zucchini, yellow squash, and green and red peppers, grilling and roasting produce to sell to other processors as an ingredient or to the food-service market.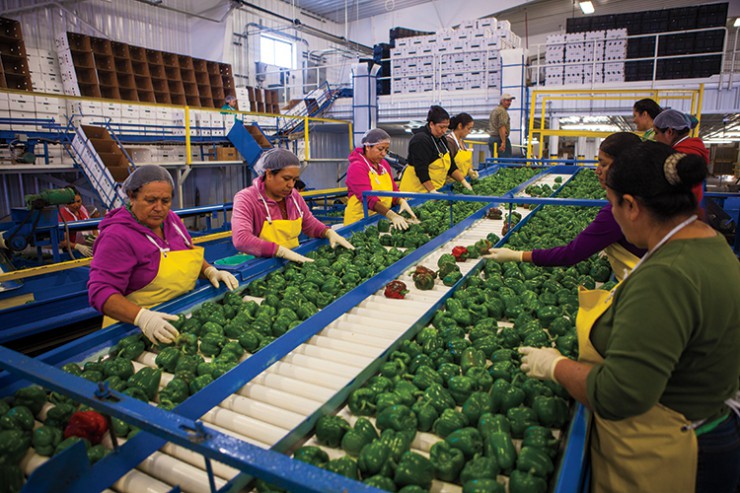 The state also processes much of the milk produced in surrounding states, with 12 processors across New Jersey.
The New Jersey Department of Agriculture works with Rutgers University in exploring ways to help sustain the state's processing industry. Recently, the department collaborated with Rutgers on a variety of grant projects designed to foster opportunities in the processing industry, and has begun offering three-hour short courses for the food processing industry.
"The Rutgers Food Innovation Center plays a very important role in helping small to midsize companies interested in entering the industry, and their vast expertise is also relied upon by the large processors as well," Murray says. "As the 'locally grown' trend keeps growing with no signs of abatement, more and more consumers are looking for products made with locally grown foods. Because New Jersey has such a diverse agricultural industry, it serves this market quite nicely."