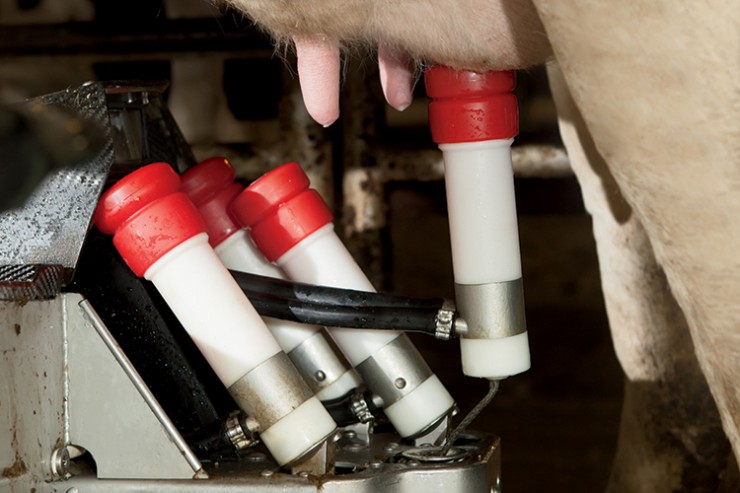 Many things have changed about the dairy industry since Rod Scheibe started working on his dad's farm more than 30 years ago. The elder Scheibe started with six heifers, and now the farm has 230 cows. One thing has remained constant – the family's commitment to animal care and the production of high-quality milk. New technologies, such as robotic milking machines, have allowed mid-sized, generational farms like Scheibe's to stay competitive without compromising quality or straying from their commitment to cow care.
"Dairy farmers are always looking at the most effective tools and technologies to advance their ability to care for their cattle and give them the best experience while milking," says Scott Higgins, CEO of Ohio Dairy Producers Association and American Dairy Association Mideast. "Robotic technology is all about improving cow care, cow comfort and acquiring the highest quality of milk from the herd."
Scheibe, who owns RoLaSue Dairy in Wooster with his father Clifford, incorporated robotic milking in February 2013. He spent several months researching the technology and talking to other farmers before deciding to install three machines in his milking parlor. This diligence has paid off – in gallons.
"We were barely able to milk twice a day," Scheibe says. "Now the cows are milked almost three times a day, and we've increased our daily output since we put in the robotic milkers."

Fascinating Technology
Robotic milkers allow the cow to determine when it wants or needs milking. When the animal enters the parlor, robotic arms clean and prepare the udder before attaching. After milking, it cleans the udder again. Higgins says the cows have adapted well to the technology.
"One thing that I've been impressed by is how the cows have adapted to the robotic milkers – how easily they come into the parlor. They know when they need to be milked so they just walk right in and get milked. And every time they walk into the parlor, they get the same experience," he says.
Focused On The Future
Scheibe agrees that paving the way for his son and daughter motivate the adoption of any new technology.
"That's kind of the way we geared this going into robots – that someday I can retire," Scheibe says with a chuckle. "We're trying to make it so we can roll the farm over to the next generation someday."
When the younger Scheibes take over, they can spend even more time caring for their herd.
"Robotic milking gives farmers more flexibility and improves the quality of life for the farmer because he doesn't have to abide by a strict schedule, and can concentrate on other needs of the farm and on other needs of the animals," says Dr. Juan Tricarico with the Innovation Center for U.S. Dairy.

From Farm to Fridge
In the end, Higgins says, quality and consumer satisfaction matter the most. In 2009, the National Milk Producers Federation instituted the Farmers Assuring Responsible Management (FARM ) program. Currently, 70 percent of the nation's milk suppliers use this voluntary, quality improvement program.
"It's a self-management and review program that ensures farmers are taking good care of their animals, and includes a list of daily routines to make sure cows are healthy," Higgins says.
Ohio's milk quality has caught the attention of dairy product manufacturers and milk processors. Daisy Brand, the nation's largest sour cream producer, broke ground on a $116 million facility in Wooster in 2014. Regional grocery chain Meijer announced plans to build a $100 million dairy production plant in Tipp City.
"The future looks bright for the dairy industry in Ohio," Higgins says. "We're in a great location with easy access to major markets, and manufacturers recognize that. Our goal is to provide a steady and high-quality supply of milk so that we continue to attract new manufacturers and processors to Ohio."