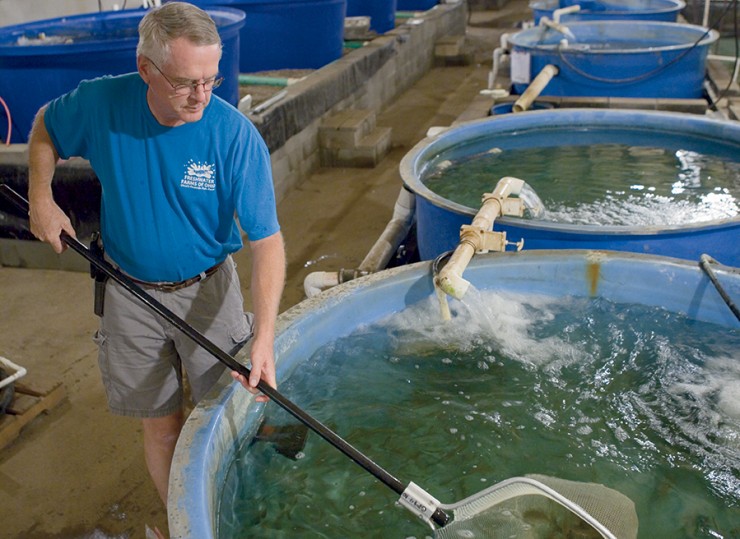 The Smith family of Urbana lures 5,000 people to their fish farm for the Ohio Fish & Shrimp Festival every September.
Certainly, it's a novel way to spend a weekend in Ohio. More importantly, the event showcases aquaculture, which in the last decade ranks among the fastest- growing sectors of Ohio's agriculture industry.
In fact, aquaculture sales more than tripled in 10 years. The state recorded sales at $6.6 million in 2007, the most recent census data available. In 1997, sales reached just $1.9 million. In recent years, the economic downturn and high feed costs have reduced profitability and decelerated growth for this industry. A slow recovery continues, but the future offers great potential, says Dr. Tony Forshey, state veterinarian for the Ohio Department of Agriculture.
"In Ohio, we are a great state for aquaculture production because of our water supply," Forshey says. "We really have the natural resources, the labor and the markets. Ohio's situated within 600 miles of a majority of the population of the United States, so we have a lot of market access."
In fact, the potential for expansion abounds, says Dr. Dave Smith, a marine biologist and president of Freshwater Farms, host of the Ohio Fish & Shrimp Festival. The United States contains just 2 percent of the world's fish farms even though the nation is quite capable of doing a lot more, he says.
Ohio's top species of fish for production include yellow perch, largemouth bass, bluegill, tilapia and trout, says Dr. Laura Tiu, aquaculture extension specialist at Ohio State University.
About 200 farms hold aquaculture permits in Ohio, she says. The U.S. Census of Agriculture reported just 100 farms in 2002. These fish farms operate indoors and outdoors, Tiu says. Outdoor production is seasonal and includes spring-fed ponds, raceways and quarry lakes. Fish grow year round in indoor recirculating tank systems.
About 95 percent of fish sell through the live market, Forshey says. Tiu explains the live market has two components: Some species stock ponds for recreational purposes. Other fish enter ethnic markets, particularly in large urban areas, like Cleveland and Toledo, where customers like to buy live fish. Trucks equipped with oxygenated tanks haul the fish to their destinations.
Tiu, an aquaculture expert for 30 years, has recently witnessed a notable increase in interest in locally grown fish. Freshwater Farms can attest to that trend.
This farm, the largest indoor fish hatchery in Ohio, attracts about 60,000 people annually to buy fish for consumption or to stock ponds. The public also can tour the facilities, feed and pet fish, and shop for yard ponds and accessories.
Freshwater Farms raises more than 20 species of fish in indoor recirculating systems and produces up to 100,000 pounds of fish per year. They recycle water and use solar power to heat their buildings. Outdoors, the farm raises freshwater shrimp in ponds in the summer.
Most of the Ohio aquaculture industry's growth has been with small local farms, Tiu says. Both Forshey and Tiu believe the industry needs growth in large commercial, indoor farms to increase the industry's sustainability.
"I've always believed there's huge potential for this industry in the United States, but we face a lot of roadblocks," Tiu says. "Some are public acceptance. There is limited funding for agriculture research and it's hard to get financing if you want to put in a new operation."