Did you know Ohio has a state apiarist? Meet Barb Bloetscher. Her job is to ensure the health of honey bees across the state.
Ohio State Apiarist on Honey Bee Health
Why does honey bee health matter, you may ask? Ohio's honey bees help to improve the yield of many crops including pumpkins, soybeans, blueberries, peaches, almonds, eggplants, as well as seed crops such as sunflower, broccoli, alfalfa and canola. Honey bees also pollinate wild-flowering annuals, perennials and trees to provide food for wildlife.
READ MORE: What to Plant in Ohio to Attract Bees and Other Pollinators
"Better pollination equals better crops and more yield," says Bloetscher, who became the Ohio state apiarist part time in 2009 and full time in 2011. She is also the state entomologist, a role that requires her to identify insects and the potential damage they cause to plants, trees and crops.
"I've always loved insects. I've been keeping bees for 32 years," Bloetscher says. "Honey bees are fascinating creatures."
Employed by the Ohio Department of Agriculture, Bloetscher spends a lot of her time inspecting honey bee hives.
"I make sure the hives are healthy and give the beekeeper a copy of the inspection report," she says. "I work with inspectors in most of our counties to look at the health of the bees and the larvae, and make sure the hive has a solid brood pattern and a queen. We also check adult bees for varroa mites, a parasite that hitches a ride on the bees and can spread viruses and disease. They are the No. 1 problem we have with honey bees."
READ MORE: How 10 States are Helping Pollinators
If a hive is found to have a varroa mite infestation, the owner needs to manage the problem either culturally or chemically, before being reinspected. Ohio has an increasing number of beekeepers who raise queens and nucs (mini hives) for sale so beekeepers can use locally raised stock instead of bees imported from other states. For these businesses, the apiary is inspected and given a certificate of health upon meeting certain thresholds. Buyers are encouraged to ask for a copy of these certificates to know that they bees they are purchasing are healthy.
The Buzz on Honey Bee Education
Another part of Bloetscher's job is giving talks to county beekeeping clubs about subjects such as bee health, bee nutrition, and pests and diseases affecting bees. She also spends a lot of time making phone calls to beekeepers and contributing samples from Ohio's honey bee colonies for the USDA Honey Bee Health Survey.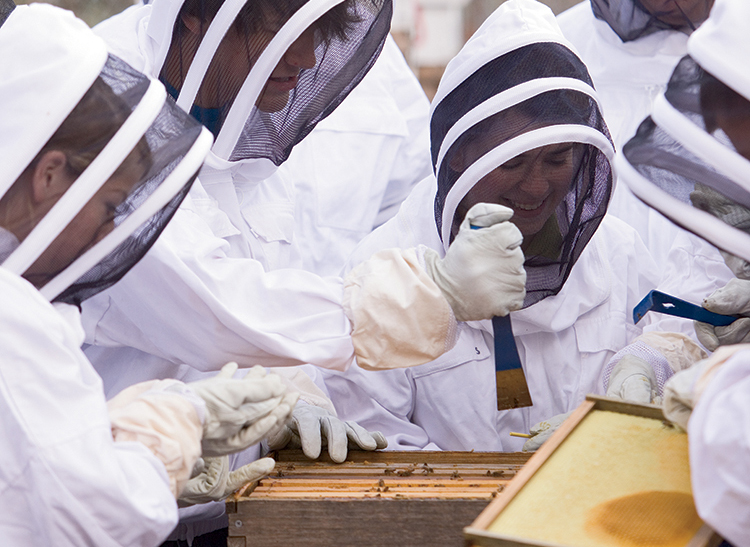 Ohio has more than 6,000 registered beekeepers, but Bloetscher says there is always a need for more. Ohio doesn't have enough bees to pollinate all of its crops, so it relies on bees from other states.
"We have a good, thriving beekeeping industry here, but we always encourage more awareness among people and encourage them to help bees by planting flowers, for example," she says. "Urban beekeeping has become popular and having hives in the city
really helps. We've had 817 new beekeepers register just this year, and many are urban."
READ MORE: The Buzz Ohio's Beginner Beekeeping Scholarship
New beekeepers are required to register their apiary by law, and the fee is $5. Bloetscher estimates the cost to start a colony is around $500, which covers all the basic equipment needed.
For more information, contact Bloetscher at apiary@agri.ohio.gov or (614) 728-6401.