As older large animal veterinarians near retirement age, the Center for Veterinary Health Sciences at Oklahoma State University-Stillwater is preparing a new generation of practitioners to fill that talent pipeline.
"Between 25 and 30 percent of our graduates go into large animal or mixed animal practice," says Dr. Jean Sander, dean of the OSU Center for Veterinary Health Sciences. "We're probably higher than most veterinary colleges with students with that have that particular interest, so we're really proud of that."
Sander says the university partners with local agriculture operations, such as Hitch Industries, Express Ranches and Kiamichi Link Ranch, to give students hands-on experience. She says the university soon plans to offer a certificate program in cattle production medicine.
"The plan is to have dedicated coursework and service experience where students will be working with these cattle producers and learning firsthand the important aspects of husbandry, nutrition and management," Sander says. "They know all the medicine, but there are other aspects – especially if they did not grow up farming – where they need to have a more expanded education."
Sander says this expanded education into large animal and animal production medicine is one of her passions as an educator and as a doctor.
"I'm a city girl who does production animal medicine, and we need to keep an open mind about where our future veterinarians come from. Our society is becoming much more urban and the likelihood of us being able to get kids right off the farm anymore is diminishing, and that's part of the reason why I think [the certificate program] will be so important," she says.
Innovative Research Funded
The Center for Veterinary Health Sciences has also gained a reputation within Oklahoma's agriculture industry for its innovative research in infectious diseases, particularly in cattle. The school recently received an $11 million grant from the federal government to conduct research specifically in infectious respiratory disease in cattle.
OSU is also home to the National Center for Veterinary Parasitology and boasts the largest concentration of parasitologists in the country. Sander says as a result of the tornadoes of 2013, the center has established a disaster preparedness program for large animals, including cattle, horses and sheep, to train students as first responders. The school is soliciting grants and funding for mobile units "so students can go to where the animals are injured after a disaster," she says.
"All these focus areas have a direct impact on the state's agriculture industry," Sander adds.
In Oklahoma City, the OSU Veterinary Technology program is training registered veterinary technicians to assist in large animal practices.
"About 10 percent of our graduates go into large animal practice," says Sabrina Cummings, head of the Veterinary Technology Program at OSU-Oklahoma City, "but we're a growing program and we're starting to model our program after others in the state with strong large animal focus."
Cummings points to a course that debuted in spring 2014, dedicated to nursing techniques specific to large animals so that students are better equipped to enter mixed animal practices or large animal and production animal practices.
Meeting Rural Needs
"In rural areas, there's a need for registered vet technicians because legally in the state of Oklahoma, vet techs can perform certain procedures like pregnancy tests without an ultrasound, large animal dentistry or artificial insemination that assistants can't," Cummings says. "Many veterinarians are having a harder time finding associates to come in and help them with their practice who are well-trained and legally able to perform these procedures."
Cummings' program partners with the OSU-Stillwater veterinary teaching hospital to help train veterinary tech students to assist in surgeries and other procedures
"so that after graduation, [both veterinary and vet tech students] are comfortable working together as a team out in the real world."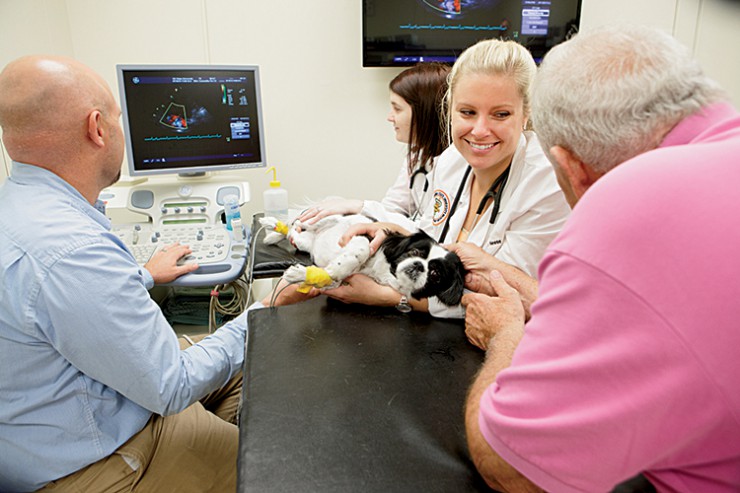 "You can't charge a lot of money to the cattle producer or swine producer because they need to have low cost in order to make a profit off their animals, so [a veterinarian] being more efficient in practice can help keep those costs low. An RVT can help that one doctor see multiple animals in a herd very quickly," Cummings says. "And, the RVT is that second set of eyes that results in better care for the animals."
She says the program plans to expand the number of students enrolling and graduating each year. They also want to increase the hands-on training and real-world experience students receive – specifically in the large animal practice. Cummings says the program is seeking funding to expand its facility to allow for more partnerships with vet students studying large animal medicine.