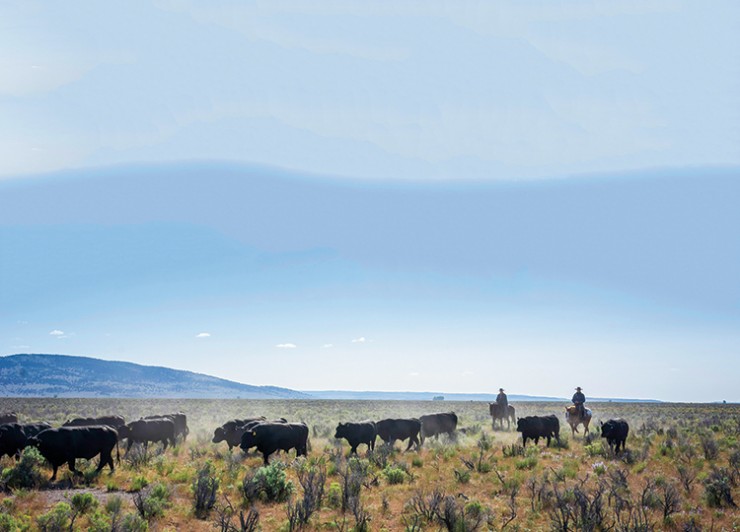 Oregon ranchers know the difference between a good steak and a great steak: flavor. Oregon ranchers also know what consumers want on their plates: delicious beef. In recent years, consumers are looking for natural or specialty beef. Oregon ranchers understand that and deliver it.
Cattle ranching dates back more than 150 years to Oregon's origins. Although beef cattle are raised in nearly every county in the state, the rugged high desert regions of Oregon create a sweet spot for cattle. Many families have been ranching in this area for generations.
The state has a diverse cattle industry to meet consumer preferences globally, nationally and locally. Much of Oregon beef is grass fed on the ranch and then grain-fed in the Midwest. This combination produces the marbling and flavor that most people prefer, particularly the international markets. There's a growing American market for 100 percent grass-fed beef, and Oregon ranchers are producing some of the best in that category.
Specialty co-ops like Country Natural Beef and Painted Hills Natural Beef offer natural beef to the national market. Country Natural Beef, formed in 1976, led the charge in branding natural beef from the ranch to the customer.
"No antibiotics, no hormones and raised on family ranches with economic stability. The goal is to have our ranches and our families for many generations into the future supplying high-quality food to consumers," says Stacy Davies of Country Natural Beef. Today, the company works with 100 family ranches.
"We try to fit in with nature," Davies says. "In Eastern Oregon, much of the land is high desert country and too harsh for crops, so it's a natural environment for cattle grazing and that's why we are able to survive using natural practices."

Perfect Place To Raise Cattle
"Our environment is conducive to healthy, vigorous growth in cattle, and that's a hard combination to beat," says Susan Doverspike, a fourth-generation cattle rancher.
Doverspike and her husband, Mark, run a cow-calf and yearling operation with Angus-Hereford cattle. Cattle feed on the native meadow hay during the winter. As the seasons progress, the Doverspikes ride horses to move the cows with calves higher into the mountains and pine forests to graze on the native grasses. With the beginning of winter, they guide the cattle back to the meadows.
"It's a family goal that we leave the land in better shape from one generation to the next," she says. "When your ancestors were excellent stewards of the land, and were true cattlemen and good producers, it creates a high standard for the next generation."
The Oregon Difference
Painted Hills Natural Beef, formed by seven ranching families, is known for its natural beef. Raised on a diet of nutritious grasses, the cattle are fed a healthy diet of barley, corn and alfalfa hay.
"Grain finishing is where you get the sweetness, the marbling, flavor and the consistency," says Jennifer Homer, a second-generation rancher with Painted Hills. In response to consumer demand Painted Hills also added a 100 percent grass-fed program three years ago.
"This is beef country," Doverspike says. "Ranchers here have been raising cattle for generations and learning from those experiences."
Whatever consumers prefer, the real difference in Oregon beef is the ranchers' experience and knowledge working with their cattle in concert with the environment.