Quality and diversity. Two words that perhaps best describe Oregon agriculture. Many states can rightfully claim they produce quality agricultural products, but only a couple can say they produce more than 225 different crops, livestock and seafood products.
"Our farmers, ranchers, fishermen and food processors are as diverse as our products," says Oregon Department of Agriculture (ODA) Director Katy Coba. "They include small organic producers who focus on local markets and sell directly to the consumer, but also large family farms that grow and market products to other states and countries. Several characteristics they have in common – they are innovative, market-savvy, environmentally friendly, and connected to their community. Oregon is a relatively small state where people know the farmers and see them as a large part of our culture."
Food is also part of Oregon's culture. Oregon was one of the first in the U.S. to fully embrace local connections – farmers' markets, farm-to-school efforts and farmerchef collaborations. Oregonians treasure and demand locally grown foods. In addition, Oregon agriculture has never been afraid to branch out, look at new markets, and take advantage of market opportunities.
"We are sophisticated marketers," says Coba. "Successfully marketing our products locally, domestically and internationally is not something new to Oregon. We've been doing it for decades."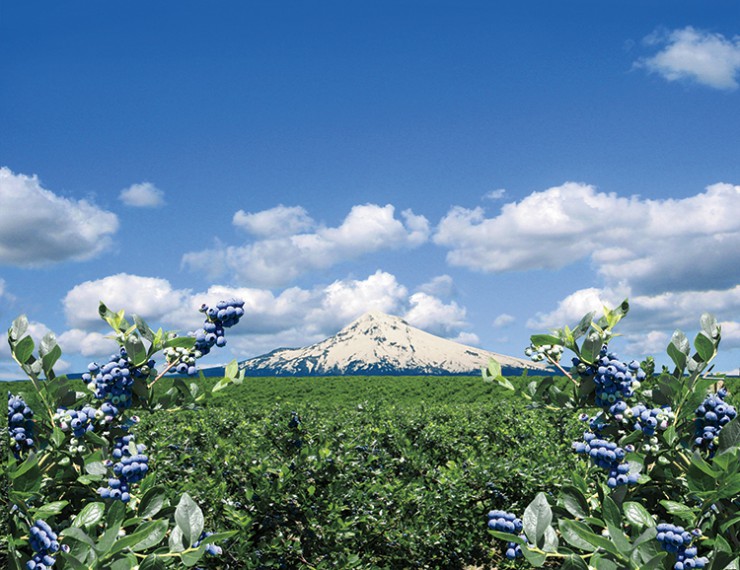 Anyone can look at a map and see how Oregon's West Coast location is a competitive advantage for exporting, especially providing good access to the Pacific Rim. With about 3.7 million people, Oregon does not have the population to consume all that it produces, and relies on markets in other states and countries to sell most of its bounty. About 80 percent of Oregon's agricultural production leaves the state, 40 percent goes internationally. While Asia is the primary customer for exports, Oregon is proud to ship products to more than 100 countries around the world.
Oregon benefits from a unique intermodal transportation system that includes road, rail, waterway and air. By truck on the interstate highways, by train on Oregon's railroad network, by barge along the Columbia River, by ship on the Pacific Ocean or by jet coming out of Portland International Airport, products from Oregon are efficiently delivered to the market in a timely manner and with the quality the market expects.
Those expectations are high but consistently met. Oregon successfully finds a way to produce something in a form that the market wants.
It starts with learning customer preference. Through product development and packaging, often followed by certification provided by ODA or other entities, buyers know they are getting something that meets their specifications.
"Because of our diversity of geography, climate and what we grow, Oregon is able to be very adaptable," says Coba. "That allows us to look at what a market wants and produce for the market, not just produce a narrow range of commodities and say that's all we can do. So many areas of the state produce so many wonderful products. We have the resources and the diversity that allows us incredible flexibility to produce for the market's needs."
Agriculture remains a key part of Oregon's economy. As a result, there is great support in making sure it thrives. Land and water resources are made available so that numerous high-value products can be grown. Local and state business development programs help food processors maintain, expand or relocate into Oregon.
In nearly 12 years as Oregon's agriculture director, Coba has traveled around the state, the country and the world, and is constantly reminded of how special Oregon agriculture is.
"Oregon has developed a culture of love for food and agriculture. Oregonians embrace it and are proud of it," Coba says. "That makes it an exciting time to be a farmer in Oregon who wants to directly market products locally. At the same time, we are a global player because our growers have been involved in larger domestic and international markets. We are passionate about agriculture in Oregon and we've been successfully sharing what we produce with the rest of the world. When you see other cultures wanting high-quality food and other agricultural products, Oregon is a place that's at the top of their list."