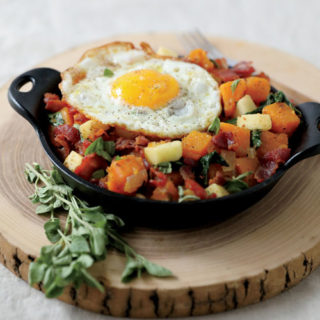 Fall flavors come together for a hearty breakfast hash.
Makes:

4 servings

Prep Time:

15 minutes

Cook Time:

30 minutes

Difficulty Rating:

Easy



Recipe Created By: Jessi Heggan
Instructions
Heat a large skillet to medium-high heat and add the bacon pieces. Cook the bacon, then remove with a slotted spoon. Leave 1 to 2 tablespoons of grease in the pan.
Add the butternut, onions, apple, garlic, oregano and pepper to the pan, and saute for about 5 minutes.
Add the broth, then place a lid on the pan, but leave it slightly tilted open. Allow to cook for 8 to 10 minutes or until butternut is softened.
Add the spinach leaves and cook until they are tender and reduced down, approximately 2 to 3 minutes.
Top with cooked bacon pieces and serve immediately while hot.
Love this Butternut Breakfast Hash? Try our Sweet Potato Hash with Poached Eggs!