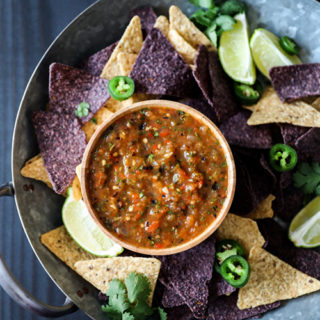 Made with grilled vegetables, cilantro and freshly squeezed lime juice, this simple salsa is the perfect summer appetizer.
Makes:

4 cups

Prep Time:

15 minutes

Cook Time:

15 minutes

Difficulty Rating:

Easy



Recipe Created By: Jessi Heggan
Photo by:

Jessi Heggan
Ingredients
2 pounds tomatoes
2 jalapeño peppers
2 red bell peppers
1 white onion
2 tablespoons olive oil
1 ½ cups fresh cilantro
4 garlic cloves
1/3 cup lime juice
2 teaspoons kosher salt
Instructions
Preheat grill to 500 degrees. Cut the onion in half, leaving the core intact, but remove the outer peel.
Toss the tomatoes, jalapeños, bell peppers and onion in oil and place on the grill. Cook for about 5 minutes, and then rotate the food and cook for an additional 5 minutes.
Remove the tomatoes, onion and jalapeño, and cook the peppers an additional 3 to 5 minutes, or until the skin is charred and peppers are softened.
Add the cilantro and garlic to a food processor and pulse.
When cool enough to handle, cut off the core of the onion and bell peppers, and remove the seeds and ribs of the jalapeños. Add the tomatoes, onion and peppers to the food processor, along with the lime juice and salt, and pulse until desired consistency.
Store in an airtight container in the refrigerator until ready to serve.