Give your average breakfast quiche a healthy and flavorful upgrade with this savory recipe for Spinach, Tomato and Feta Quiche With Quinoa Crust.
Makes:

6 servings

Prep Time:

15 minutes

Cook Time:

1 hour, 5 minutes

Difficulty Rating:

Easy



Recipe Created By: Jodie Shield
Recipe From: Illinois Partners
Ingredients
Crust
nonstick cooking spray
1 cup quinoa, rinsed in a fine-mesh sieve
1/8 teaspoon ground black pepper
1 large egg, beaten
Filling
Instructions
For the crust, heat the oven to 350 degrees. Coat a 9-inch pie pan with nonstick cooking spray.
Bring the quinoa and water to a vigorous boil. Reduce heat and simmer for 15 minutes. Quinoa is done when it is tender, chewy and white spiral-like threads appear around each grain.
Measure 2 cups of the cooked, rinsed quinoa into a medium-sized bowl. Combine the quinoa, 1/8 teaspoon black pepper and 1 egg in a large bowl, stirring well. Press the quinoa mixture into the bottom and up the sides of a pie pan. Bake for 20 minutes. Remove crust from oven and set aside.
For the filling, heat a large nonstick skillet over medium heat. Add the canola oil and onion, and saute for 3 minutes. Add the remaining teaspoon of canola oil and spinach to the onion mixture, and saute 3 minutes or until spinach is wilted. Remove from heat.
Meanwhile, in a large bowl, whisk together the milk, cayenne pepper and lightly beaten eggs until well combined.
Arrange the spinach mixture in crust. Pour egg mixture over spinach; add tomato slices and sprinkle with feta. Bake for 45 minutes or until eggs are set. Remove from the oven and let stand for 5 to 10 minutes. Cut into wedges and serve.
Tips & Notes
Store the leftover quinoa in the refrigerator for another use. You can also make the crust ahead of time and store it in the refrigerator until ready to use.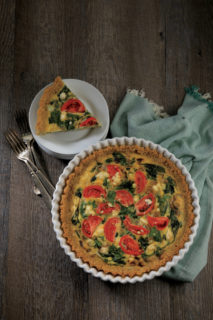 Like this recipe? You'll also love our Country Quiche, Potato, Ham, and Spinach Gratin, and Wilted Spinach, Blackberry, and Goat Cheese Salad.