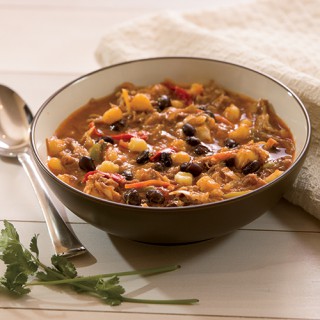 Give life to leftovers! Combine leftover barbecue with veggies and spices for a zesty, hearty soup.
Ingredients
2 tablespoons olive oil
4 cups leftover chopped pork barbecue
14 ounces frozen pepper/onion mix (or 1 medium bell pepper and 1 medium onion, sliced)
2 medium jalapeno peppers, seeded and chopped
16 ounces cabbage/carrot slaw mix
2 cans (30 ounces) golden hominy
1 can (15 ounces) black beans
1 jar (24 ounces) medium salsa
4 cups chicken stock
2 tablespoons each: dried oregano, cumin and chili powder
2 teaspoons salt
Instructions
In a large stockpot, saute 2 tablespoons of olive oil. Add peppers, onions and jalapeno peppers, and saute until softened. Add all remaining ingredients to pot.
Stir occasionally over medium-low heat until flavors are well combined, about 1 hour. Add water or more stock if desired. Season to taste.
Serve with chopped fresh cilantro, sour cream and shredded cheese.