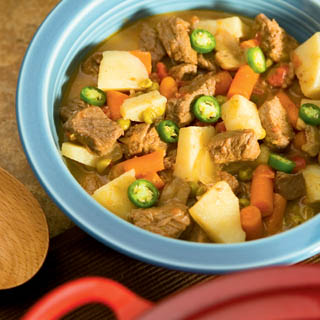 This beef stew recipe combines flavorful green chilies, ginger and top sirloin steak to create an impressionable meal.
Prep Time:

20 minutes

Cook Time:

2 hours

Difficulty Rating:

Easy



Ingredients
3 tablespoons olive oil
3-4 pounds top sirloin steak
2 tablespoons flour
2 cups of water
1 pound tomatoes, diced
1 can diced tomatoes with green chiles
½ pound baby carrots, halved
1 medium onion, chopped
3 potatoes, chopped
1 cup mushrooms
1 cup green peas
2 cloves garlic, chopped
dash nutmeg
dash ginger
dash of Mrs. Dash seasoning
¼ teaspoon cinnamon
2 beef bouillon
1 ½ teaspoon Worcestershire sauce
½ teaspoon paprika
salt and pepper, to taste
Instructions
In cast-iron Dutch oven, add oil and season meat with salt and pepper, then brown.
Take meat out and set aside. Add flour to oil and make paste.
Add water, tomatoes and meat.
Cover and let simmer for 1 hour.
Add all other ingredients and simmer for 1 hour or until vegetables are tender, stirring occasionally.