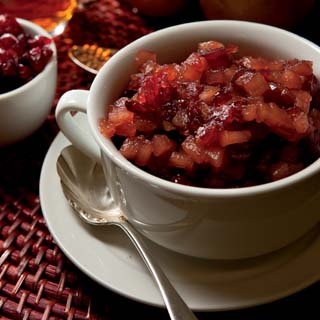 This sweet, fruity chutney makes a great topping for pork, fish or chicken.
Difficulty Rating:

Easy



Nutrition Highlights:

Pears are rich in cholesterol-lowering fiber and epicatechin, an antioxidant combating the negative effects of aging. Cranberries are an antioxidant super-food and may boost HDL "good" cholesterol levels.



Recipe Created By: Kristen Winston
Recipe From: Tennessee Home & Farm
Ingredients
4 cups diced, peeled pears
1 cup dried cranberries (such as Craisins)
1 cup sugar
1 cup apple cider vinegar
½ teaspoon coriander, ground
Instructions
Combine in a saucepan and cook over low heat until pears start to soften.
Tips & Notes
You can also use this fruity relish as a sandwich spread, a dipping sauce on a cheese plate or even to wake up your chicken salad.